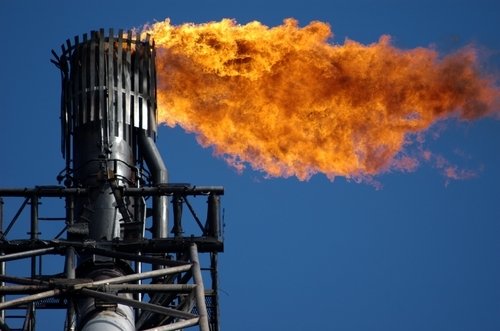 A new report from researchers at Colorado State University shows that "U.S. gathering and processing facilities — where natural gas from nearby wells is consolidated for distribution through pipelines," leak 8 times the amount of methane previously estimated by the Environmental Protection Agency (EPA).  Methane "is about 72 times stronger than the same mass of carbon dioxide over a 20-year time frame."
As Rhode Island considers moving forward with several large scale natural gas projects, including an expanded pipeline in Burrillville, a new energy plant in Burrillville, and a liquefaction facility in South Providence, it seemed appropriate to ask representatives from business, labor, government and environmental groups for their comments on this report.
It is important to point out, says David Graves, media relations for National Grid, that, "this study has to do with the gathering of natural gas. That's something National Grid is not involved in and is in no way associated with liquefaction, LNG or the operations of local natural gas distribution companies, which is what we are." As of this writing National Grid is considering issuing a more comprehensive statement.
Of course, the larger issue is the global impact that fracked gas will have on the climate. (The local health impacts of having a liquefaction facility and LNG storage near a community is outside the scope of the Colorado State University study.) The question becomes, should Rhode Island be committing resources to an energy source that contributes to world destruction? Future generations are dependent on our making smart decisions today.
Governor Gina Raimondo's office downplayed the impact of our energy choices on future generations, saying, "The Governor has always spoken about the importance of having a balanced energy mix. We have to meet the needs of the present, while looking to the future.
"In the present," continues the Governor's office's statement, "we have a serious problem getting a sufficient supply of natural gas, and our soaring, unpredictable energy costs are a huge challenge for our businesses and our families. This new next generation clean energy facility will help us increase our supply of energy and bring down costs – and in doing so, will help make our state a more attractive place for businesses to operate.
"At the same time, the Governor has made it clear we are committed to doing this in a way that drives a cleaner, more reliable energy system in the long-term. We cannot lose sight of our focus on no-to-low carbon energy solutions, such as energy efficiency and renewables, including offshore wind and solar power. We are focused on enhancing system-wide energy diversity by harnessing clean energy solutions that offer new possibilities for economic growth and innovation. It is clear we can be a real leader for the rest of the country in this industry and create new jobs."
Michael Sabitoni, president of the RI Building & Construction Trades Council, concurred with the Governor, saying that, "The members of the building trades are just as concerned as anyone else with the quality of life in Rhode Island and that certainly includes their care for the environment. We have supported numerous renewable projects that will provide clean energy to our members and to our state. However, we think even the most ardent environmentalists agree that renewables cannot meet all of our energy demands. Therefore, we support development of clean fossil fuel plants to meet these needs.  The proposed Burrillville plant will have the most advanced technology. This project will eventually replace old and outdated plants. In doing so it will not only meet our needs but minimize the concerns raised by the Colorado State report. Quite frankly, it is a project environmentalists should support."
However, "ardent environmentalists" don't seem to be on board with this alignment of industry, labor and government. Peter Nightingale, of Fossil Free Rhode Island, said that, "We have known since 2011 that 'natural' gas, methane, is not the bridge fuel that our national energy policy claims it to be. Both fracked and conventional gas have a larger global warming potential than coal or oil for any possible use.  Robert Howarth, who was one of Time's three People of the Year in 2011, summed it up perfectly: the Whitehouse (in suggesting natural gas a 'bridge fuel') made a decision that is not based on good science.  Today's report is just the latest of many cracks in the nation's meth bridge to Hell."
Edit: After this posted David Graves of National Grid sent me the following statement:
"The Colorado State University report is not directly related to local distribution companies like National Grid. However, we take the issue of natural gas emissions very seriously. We have acted and are continuing to act where we can have the greatest impact. That is by limiting emissions within our system. National Grid has invested significantly in our 35,000 miles of natural gas mains which serve more than 3.5 million customers in Rhode Island, Massachusetts and New York, lowering overall emissions while the distribution network has grown. We invested more than $1.2 billion in our gas infrastructure this past fiscal year and, to further limit emissions, we will spend $6 billion over the next five years. In Rhode Island, where we purchased the business of New England Gas Company in 2006, we have replaced nearly 300 miles of leak prone pipe beginning with 11 miles in 2009 and adding significantly to those numbers each year. Our goal is to replace 60 miles this year and 65 miles in each of the coming years with a long-term goal of replacing all 1,400 miles of leak prone pipe."
Fossil Free Rhode Island also suggested the following video:
Fracked gas releases 8X more methane than previously believed

,