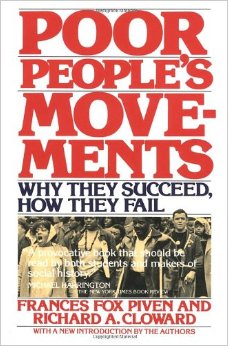 Renowned scholar Frances Fox Piven will explore strategies used by political party operatives to disenfranchise voters from opposing parties, including, in recent years, Republican Party operatives focused on disenfranchising voters of color. Professor Piven will discuss complexities surrounding claims of "voter fraud" and strategies for community resistance tonight (Thursday) at the Rhode Island Center for Justice, Room 204, 150 Washington St, Providence at 7pm.
Frances Fox Piven is an internationally renowned social scientist, scholar, and activist whose commitments to poor and working people, and to the democratic cause have never wavered.

"As co-author, with Richard Cloward, of the classic 1977 treatise, Poor People's Movements, Piven has made landmark contributions to the study of how people who lack both financial resources and influence in conventional politics can nevertheless create momentous revolts," wrote Mark Engler and Paul Engler. "Few scholars have done as much to describe how widespread disruptive action can change history, and few have offered more provocative suggestions about the times when movements — instead of crawling forward with incremental demands — can break into full sprint."
Piven's professional accomplishments in the world of academia place her among the ranks of the most important social scientists of the last century, but it is not only Professor Piven's academic work that marks her career for distinction. Rather, it is the unique and exemplary ways that she has bridged the worlds of academia and social activism to advance humanizing social policy reform that sets her apart.
Co-sponsored by the Swearer Center for Public Service at Brown University and the Rhode Island Center for Justice.
[From a press release]
"Many groups that have the power to make life decisions for others don't ever have to live out the consequences." – Frances Fox Piven