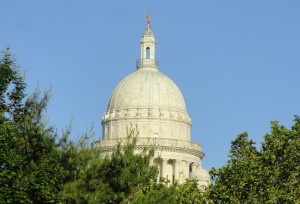 Whoever the next House Speaker is, their chief of staff won't be Frank Anzeveno. The top aid to the past three speakers said in a statement that he cleared out his State House desk and won't serve the next speaker.
As is his custom, he wouldn't speak on the record. But House spokesman Larry Berman released this statement on his behalf:
"Privately, I have known for a while that Gordon Fox would not be running for another term. He did not want to announce that decision so that the focus would be on the many challenging issues before the House of Representatives. With this knowledge and consultation with my family, I made the decision to leave at the end of this session in June. I had previously been in contact with the Employees' Retirement System of Rhode Island and the Joint Committee on Legislative Services to make an informed decision.
"In light of recent events at the Statehouse, time has accelerated. I cleaned out my office over the weekend in anticipation that a new Speaker needs to bring in his own staff.
"It has been an honor for me to have witnessed the hard work, dedication and commitment that our public officials, as well as the loyal and conscientious staff, bring to the Statehouse every day. I will always respect the House of Representatives and wish them the best in tackling the difficult issues before them."
Anzeveno began his State House career in 1980 as an elected representative from North Providence. Her served for 18 years and in 2001, he became Speaker John Harwood's chief of staff, a position he retained through Bill Murphy and Gordon Fox's tenure.
Privately, state reps said bills required his blessing, and he relished in his bad cop reputation at the State House. He had a sign on his desk – and I would love to know what happens to it now – that read, "No better friend, no worse enemy."