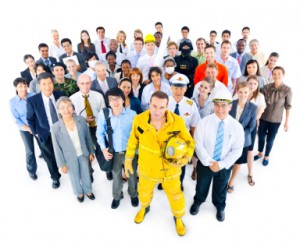 It is no secret that this country has a miserable record in terms of labor unions. After the passage of the Taft-Harley Act in 1947, a bill that both exiled the Communist Party members that had been the backbone of organization drives in the 1930's and '40's and put multiple prohibitions on labor union actions, they went into a decline.
So-called 'Right to Work' laws were rolled out across multiple states and infiltration by the mob created a culture of union bureaucrats who were inept, racist, and disconnected from the majority of their membership, instead set on currying political favors and enriching themselves. Now comes a new case to the Supreme Court, customized and written specifically for the anti-union majority sitting on the bench, that could very well serve as the death knell for public sector labor unions, one of the last great bastions of union activity in a job market that is overwhelmingly non-union.
On September 4, 2015, plaintiffs in the case Friedrichs v. California Teachers Association filed their petition with the Court. On page two, under 'Questions Presented', they ask two questions that come from the dreams of a free-market Libertarian:
1. Whether Abood v. Detroit Bd. of Education, 431 U.S. 209 (1977), should be overruled and public- sector "agency shop" arrangements invalidated under the First Amendment.
2. Whether it violates the First Amendment to require that public employees affirmatively object to subsidizing nonchargeable speech by public-sector unions, rather than requiring that employees affirmatively consent to subsidizing such speech.
The power of those two questions may seem obscure to the uninitiated, but they are the death sentence for the public sector unions.
The first part to be understood is the meaning of Abood, a case that has underwritten public sector unions and their rights for a generation. In that case, a group of Michigan teachers filed suit and claimed their free speech rights were impinged on because the union was collecting dues to engage in activities they did not agree with, collective bargaining and political endorsements. The Court found in that case that dues collection for collective bargaining did not infringe on free speech and that, while there were issues regarding free speech and union endorsements of political campaigns, the plaintiffs had failed to properly articulate their differences with the union, thereby nullifying their complaint.
Now comes Friedrichs. In last year's Harris v. Quinn, a case the public was distracted from by the concurrent Hobby Lobby decision, the ground was laid in a ruling that essentially gave a huge opening for a future case by Justice Alito, who wrote:
The Abood Court's analysis is questionable on several grounds. Some of these were noted or apparent at or before the time of the decision, but several have become more evident and troubling in the years since then.
From there, he went through a litany of flaws that essentially defined what would be required of a future case to void Abood. The New York Times wrote then:
The majority in Harris saw things differently. Making workers pay anything to a union they oppose is in tension with their First Amendment rights — "something of an anomaly," in the words of the majority. But the real anomaly lies in according dissenters a right to refuse to pay for the union's services — services that cost money to deliver, and that put money in the pockets of all employees.
Once selected by a majority of workers in a bargaining unit, a union becomes the exclusive representative, with a duty to fairly represent all of them. That is the bedrock of our public and private sector labor laws.
Unless everyone is required to pay for those services, individual workers can easily become "free riders," taking the benefits of collective representation without paying their fair share of the costs. Not only dissenters but any employee who wants to save a buck can "free ride." The net result may be that the union cannot afford to represent workers effectively, and everyone suffers.
In plain terms, the unions would be prevented from garnishing wages to pay dues used for operational costs, instituting a nation-wide Right to Work regime. It would be the end of the public sector labor unions as we know it. And even though he wrote an opinion on marriage equality that is now being nationwide in wedding vows, Justice Kennedy is a staunch libertarian, having sided with the majority of Alito, Thomas, Scalia, and Roberts on Harris.
This is a decision that would have an impact as resounding as a thunderbolt. Almost every federal, state, and municipal employee is part of some union. Professors at Rhode Island College and University of Rhode Island are unionized. The janitors, cooks, and other staffers are likewise. Public school teachers, bus drivers, even the mail man is in a union. After decades of union-busting privatization efforts, the Court would be delivering the anti-union movement not just a gift but a platinum-and-diamond-encrusted victory crown. And because the only remaining unionized jobs are private, that would either result in a mass-privatization drive or a high employee turnover rate as middle-class employees with families retreat to the private sector for better jobs.
What result this would have on the coming election remains to be seen. Hillary Clinton has played a major role in the decline of labor unions in this country, though for reasons that can only be called sheer insanity, the AFL-CIO's Richard Trumka has indicated his refusal to back Bernie Sanders and has previously tampered down on union members involved in the Sanders campaign. While I have my own criticisms of Sanders that I am not shy about expressing, the Friedrichs case could prove to be the Hail Mary he needs to pull a miracle and sink Clinton come time for the all-important South Carolina primary, a heavily-African American state who most pundits think will halt Sanders for good. If Sanders were smart enough to make this into a campaign issue, he could create a few surprises still.
This Court decision may prove to be one of the most devastating in a generation, Dave Macaray at CounterPunch was not jesting when he wrote "It's no exaggeration to say that for the American worker, "Friedrichs" could be as significant as Dred Scott." But within the wreckage of a major defeat could lay the seeds for an American labor union renaissance. After decades of oafish leaders who make political decisions that benefit them more than workers, the American worker could turn a defeat into an opportunity to redefine unionism as we know it. The future is in their hands.