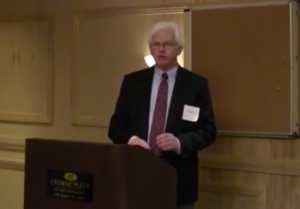 In a Nov. 17 piece in the Providence Journal, Gary Morse, an anti-affordable housing advocate who lives in Barrington, laid out his reasoning for opposing the RhodeMapRI plan.
"Strip away all the happy talk about walking communities and bike paths, and what RhodeMap RI is really all about is HUD's demand that low-income housing, particularly low-income rental housing, be implemented side-by-side with existing housing in every neighborhood across America," he wrote.
Two nights later, Morse gave a presentation that in some ways closely mirrored his more-public op/ed – with one very notable exception. The presentation focused on the idea that the federal Housing Urban Development agency, and by extension RhodeMapRI, wants to force racial integration on affluent suburban neighborhoods.
Compare the op/ed and the presentation.
"This kind of fear mongering is racism at it's worst," Steve Fischbach, a member of the RhodeMapRI Social Equity Advisory Committee, said of Morse's presentation. "He's lying and trying to scare people."
Fischbach added, "Morse's presentation plays on the fears of White people, falsely accusing some outside boogeyman of forcibly moving Blacks and Hispanics into housing projects that will be built in single family – meaning White – neighborhoods. It's not even that coded. It's pretty explicit."
The SEAC is a central problem with RhodeMapRI for Morse and other tea party types opposed to it. And Fischback, a housing and civil rights activist, has been vocal that the opposition to RhodeMapRI is rooted in racism. NBC 10 reported on a state Planning Commission meeting at which RhodeMapRI was hotly debated and Patrick Anderson filed this overview for Providence Business News.
"To me, he's a segregationist who is opposed to the Fair Housing Act," Fischbach said of Morse.
According to Morse's speech, the Fair Housing Act is a root of his concern with RhodeMapRI. This is part of what he said about it at about 2 minutes into his presentation:
Morse said evidence that RhodeMapRI is a social equity plan is that, "if you read the document you find social equity in the document seven times." RI Future compiled seven examples (not a complete list at all) of Morse indicating RhodeMapRI will result in more people of color living in affluent suburbs from his Monday night presentation.
"He's trying to scare white people into thinking that HUD and the SEAC will seize control of properties in White neighborhoods to build low income housing," Fischbach said. "He accuses RhodeMapRI of engaging in social engineering by which the engineering is moving non-white people into predominantly white neighborhoods."
As he did in his Providence Journal op/ed, Morse spoke about a court decision from Westchester County, NY. But unlike his written piece, he said, "the terms of the settlement agreement was you that you go back and count all these census blocks and look for minority populations and then you start with the census block groups that have the least number of minorities, you don't start somewhere else, you go to your million dollar neighborhoods and you start putting in low income rental housing."
Through much of Morse's presentation, he stated that HUD's and the SEAC's mission is to deconstruct neighborhoods. In this clip he says HUD will introduce affordable housing into communities "starting with the ones with the least minority populations." This is incorrect, Fischbach said. "A lot of what he is saying is incorrect, which further builds fear into the minds of Rhode Islanders.
In this clip, Fischbach says Morse again misrepresents maps highlighting areas of opportunity as maps of where minorities are concentrated, even though no racial data was used in the preparation of the maps. Says Morse, "The people in RhodeMap would say this is where we need to be putting in low income housing because after all look at the color we must not have any minority populations over there."
In this clip he says there are "federal mandates to balance minority populations."
Morse explains in this clip how developers will use the social equity committee as a way of "force fitting" an affordable housing project with people of color in neighborhoods such as the most exclusive waterfront neighborhoods in Rhode Island.
RI Future wrote about Gary Morse in May, 2013 when he had a completely different reason for opposing affordable housing. At the beginning of his presentation he says he hopes his lawsuit against the affordable housing project in Barrington can eventually "link up" with the "folks designing the RhodeMap property tax aspects."
Here's Morse's unedited 26-minute presentation:
At the request of Morse and his allies, House Speaker Nick Mattiello asked for a vote on the plan to be temporarily delayed. That vote is now scheduled to happen on Thursday, December 11 at 9:00.
Gary Morse stokes suburban fears with racially-charged half-truths

,