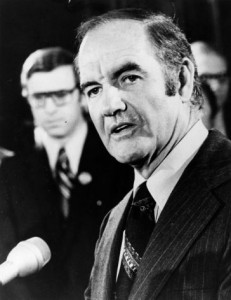 If ever there was a presidential candidate that progressives could be proud of it was surely George McGovern, who died this morning at 90 years old in his hometown of Sioux Falls, South Dakota.
McGovern spoke out angrily against war, he advocated passionately for the poor and the middle class and he sounded the alarm early about the dangers of corporate greed. He is the closest thing the sixties had to a presidential candidate.
"I'm fed up to the ears with old men dreaming up wars for young men to die in," he once said. "The Establishment center … has led us into the stupidest and cruelest war in all history. That war is a moral and political disaster – a terrible cancer eating away at the soul of our nation."
McGovern is of course best remembered for the historic beating he took in the 1972 presidential campaign to Richard Nixon.
"Ever since I was a young man I wanted to run for the presidency in the worst possible way, and I did," he famously joked about his defeat.
But progressives shouldn't disavow McGovern because of the election day ass-kicking he took. In fact, it's actually one of the all-time greatest examples of hindsight being 20/20: America, instead, chose to re-elect Richard Nixon. We all know how well that went.
"It's true that I lost to Richard Nixon in the general election by a huge margin," McGovern said years later. "But that wasn't my mistake. That was the mistake of the voters."
Oddly enough, McGovern – son of a minister and decorated WWII fighter pilot – had an image problem. He chose to ditch his initial choice for vice president because he had a history of mental illness, which made him seem both weak and unstable. Then there were all the hippies and radicals that had attached themselves to his star.
"I'll go to my grave believing America would be better off had I been elected in '72 rather than the re-election of President Nixon," he said, and it's hard to argue with him.
In 1972, America was probably more ready for McGovern's populism than it was for a candidate that had the endorsement of Hunter S. Thompson. In his book Fear and Loathing on the Campaign Trail (which has been called "the most accurate and least factual account of that campaign") Thompson wrote probably the most famous passage about McGovern's legacy and politics.
The tragedy of all this is that George McGovern for all his mistakes and all his different kinds of talk about new politics and honesty in government is one of the few men who have run for president of the United States in this century who really understands what a fantastic monument to all the best instincts of the human race this country could have been if we could have kept it out of the hands of the greedy little hustlers like Richard Nixon.

McGovern made some stupid mistakes but in context they seem kind of frivolous compared to the things Richard Nixon does every day of his life, on purpose, as a matter of policy and perfect expression of everything he stands for. Jesus, where will it end? How low do you have to stoop in this country to be president
George McGovern: POTUS Candidate, Progressive

,