When most Rhode Islanders think of George Nee, president of the 80,000 member Rhode Island AFL-CIO, they probably have images of his speaking at a State House rally to support labor causes or testifying at a legislative hearing to protect worker pensions.
Probably there are some politicians, on both sides of the aisle, who have nightmares of the wrath of George Nee if they don't support the labor agenda. Few, however, know the full story behind his passion to fight for working people, how he got here, what prompted him to help organize arguably one of the most powerful political forces of any state in the nation, and what's in store for him in the near future.
George Nee and Cesar Chavez
When I sat down with Nee at the AFL-CIO headquarters on Smith Street (the DMZ for us Republicans), I was taken by the most prominent image in his office, not of photos with Presidents or national leaders (they were indeed there), but with the images of the person who most inspired his mission in life: Cesar Chavez.
Chavez, the civil rights activist and labor leader who co-founded The National Farm Workers Association (later the United Farm Workers or UFW), burst upon the national scene when he organized the national grape boycott (which was settled in 1970) and then the 1971 lettuce boycott. Chavez was, and still is, considered one of the" lions" of the labor movement in the United States.
George Nee was a pall bearer at Chavez's funeral on April 27, 1993. And how he got to be so close to Chavez is a story in itself.
A Boston College student in the late 1960s, George left the comfort of the ivy halls before graduating to earn $5 a week plus room and board to work for the United Farm Workers. His first assignment: go to Rhode Island (with $5 in his pocket and a car with no heater) to help organize the lettuce boycott.
He helped to organize the 1000-man march through the California fruit and vegetable countryside. One night they would stay at a Hollywood actor's mansion, and the next they would be on a dirt floor with no running water. It was during this period that Nee became close to Chavez, serving as one of personal bodyguards due to the constant occurrence of death threats.
Organizing the Ocean State
The rest of the story can only be described as a man on a mission. He organized jewelry, clerical, and health care workers and his efforts resulted in contracts with over 1,300 workers and 50 union election. He joined the Rhode Island AFL-CIO as its executive director in 1983, became its secretary-treasurer in 1991, and then its president in 2009.
Though union membership nationally is declining, and certainly the percentage of union membership in Rhode Island has been decreasing, Rhode Island is still one of the states with the highest union density in the nation.
"Lack of enforcement of the rights of unions to organize, technology diminishing the workforce, trade, and tax policy," he cited as some of the reasons for the drop in membership.
Nonetheless, the Rhode Island AFL-CIO has been more active than ever in its social and political agenda. That agenda is both applauded and loathed, depending on what side you are on.
2013 Legislative Agenda
A fast overview of what's on his plate for 2013:
An increase in the state minimum wage. Rhode Island's minimum wages is now $7.75 per hour, while Massachusetts' is $8.05 and Connecticut's is at $8.35,"
A restoration of the historic tax credit, with a stipulation for a prevailing wage mechanism to be attached, and
Probably one of the most contentious initiatives, the fight for binding arbitration for school teachers. According to Mr. Nee, "It's time to end the politics in teachers' contracts."
With this busy legislative agenda, coupled with his ongoing fight against some aspects of pension reform, George Nee has not lost his passion for the labor movement and the rights of all workers. Sharp, articulate, and extremely grounded, he sees no other place where he'd rather be (he laughed when I said that I heard a rumor that he was considering a gubernatorial run) working.
"I like the trenches," he said. "That's where the real work gets done."
He's met with presidents of the United States, but he is just as impressed with the handshake of a laborer in the Union Hall. To know George Nee is to know his proudest moment was having carried the casket of his friend and inspiration on that April day in 1993 in California, when world leaders and 50,000 regular people gathered to lay Cesar Chavez in his final resting place. George Nee at his side.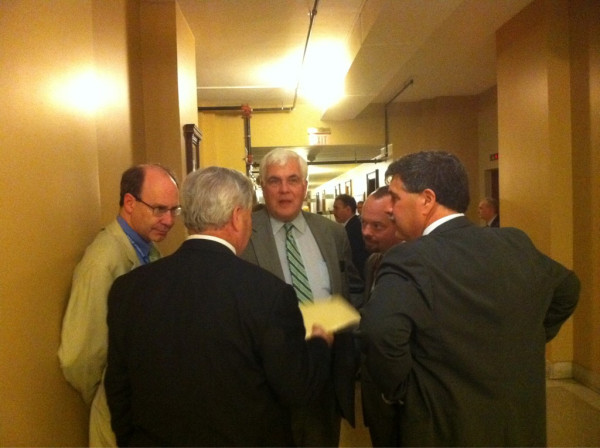 This story originally appeared in the Rhode Island Echo.
George Nee: Real Work Gets Done In The Trenches

,