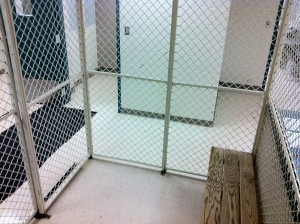 My friend Matt from the Harvard Kennedy School has a blog post up about a disturbing situation at a Mitt Romney campaign event he was attending, which, in my opinion, is emblematic of a larger trend of slowly taking away the rights and freedoms of people to speak out in dissent.  We see this occurring more and more at public and campaign events: private police details, people being denied entry, cordoned off "free speech" zones, etc.  It is as if political candidates and public officials are moving towards the "Minority Report" model to prevent outbursts at events such as politically motivated signs, public mic checks, or monopolizing limited question and answer time with particular questions by preventing those who may (but likely won't) be engaging in such activity from the opportunity to attend.  I suppose it is a symptom of the 24/7 news cycle, the democratization of information, and the ease with which even the most mundane political "controversies" can be blown out of proportion and manipulated for partisan ends.
Here are some snippets of his article.
I'd been in New Hampshire for the past several days to follow the campaign and see some of the candidates in-person. Yesterday morning, I was chatting up a Romney campaign staffer before an event at the Gilchrist Manufacturing Company in Hudson, NH, when a police officer approached. Sir, we have to ask you to leave the premises.

—

I asked another question or two, and the cop had had enough: "You're under arrest." He took my things, handcuffed me behind my back, searched me, and tucked me into a nearby cruiser. A few minutes later, an officer removed me from the cruiser and had me lean up against another police car and spread my legs for a second search. Two or three TV crews had their cameras trained on us; I felt ashamed in a wholly unfamiliar way. I wanted to look directly at the cameras and explain what had happened, but I feared the police officers' reaction.

—

It was clear to me that the two officers had no interest in discussing what the law actually said, or what my rights actually entailed. I was paperwork, and they wanted to get it over with. I kept asking questions, and at one point, one of them opened up the New Hampshire legal code and read me the definition of disorderly conduct. He read the words dully, as if they were just syllables, with no interest at all in what they meant.
Read the whole post here.