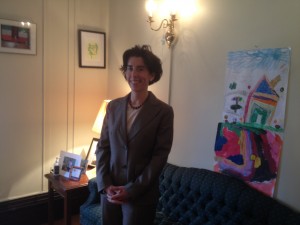 I don't doubt Gina Raimondo's actuarial acumen. But oftentimes I think her political instincts leave much to be desired. The general treasurer/gubernatorial candidate-in-waiting might be the Democratic darling to the budget-cutting crowd for shepherding pension cuts through the legislature, but there's a political side to the court challenge too and she has chosen not to participate.
And so as Act 2 of the pension reform drama heats up, Raimondo finds herself on the wrong side of cooperation – as well as political and legal logic – as she effectively argues against keeping open lines of communication with organized labor over the pension war she stoked with its members. That's not only a bad tack to winning over hearts and minds, it's at best a counter-intuitive way to kick of a campaign for governor in Rhode Island.
(Read our post from Tuesday about the brewing disagreement over pension reform talks between Chafee and Raimondo)
According to an informative Mike Stanton piece in today's Providence Journal, Chafee suggested to Raimondo on November 13 that the state try to negotiate a settlement with labor. According to Stanton, Raimondo replied, more than two weeks later, ""On advice from our counsel, it is not appropriate to pursue the matters you raised."
Chafee, and many others, disagree.
The governor told Stanton, "I don't see any downside to talking."
Here's a potential downside for Raimondo: the folks over at EngageRI wouldn't like it very much, and it is these upper income corporate sympathizers who can help a rookie general treasurer amass over a $1 million in her campaign coffers two years prior to the election.
Still, it seems most of the other 2014 gubernatorial candidates agree with Chafee. Ernie Almonte told WPRO this morning he thought the state should be talking to labor and Angel Taveras had similar words for RIPR yesterday.  Anyone want to see what Mayor Allen Fung thinks? Oh yeah, that's right, he's busy … negotiating pension reforms with organized labor.
Raimondomania, as the adoring media has dubbed Gina's phenomenal rise, certainly started off with a giant political victory by many accounts. But the legislative process was only the opening act in the effort to reform public sector pension benefits in Rhode Island. The legal obstacles continue to come into sharper focus on Friday. And, evidently, negotiations continued between the executive branch and the pensioners.
Raimondo has chosen not to come to the table.