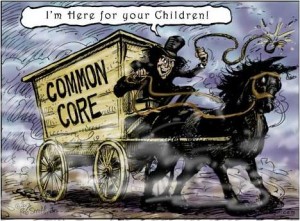 Deborah Gist is not only raising hackles with the education community here in Rhode Island, she's doing it on a national level too! On Tuesday, Chiefs for Change released a letter attacking labor leader Randi Weingarten for opposing high stakes testing. Gist is on the board for Jeb Bush's Chiefs for Change group and she co-signed the letter.
Only problem is, according to the Washington Post, Gist and the letter criticized Weingarten for something she didn't say.
How's this for a trick? Jeb Bush's "Chiefs for Change," a group of former and current state education superintendents, have attacked American Federation of Teachers President Randi Weingarten for something she didn't say — without even mentioning her name!
That's right, a Washington Post education blogger – a fairly well-credentialed one, at that – says Gist and Chiefs for Change were being tricky. Valerie Strauss goes on to explain:
Let's get this straight: Weingarten didn't argue (as testing experts do) that using student standardized test scores to evaluate teachers and principals is wrong because the results are not reliable. She didn't call for a permanent ban. She asked for a moratorium to make sure everyone is ready. Given that teachers are being evaluated on the student test scores, it seems only fair to give them enough time to actually learn the standards, develop lessons around the standards, and give students time to absorb them.
I don't know if she was referring to Tom Sgouros specifically when she wrote that TESTING EXPERTS DO NOT THINK HIGH STAKES TEST RESULTS ARE RELIABLE, but she did give a shout to to the states that are struggling through the politics of it (emphasis mine):
Students in some states this spring started taking standardized tests supposedly aligned with the Common Core and there have been enormous problems reported by teachers and principals.
It's well worth noting that Sgouros' loudest criticism's of Gist have been that the NECAP test isn't aligned with Common Core. And like this Washington Post blogger, he's also called her out for being disingenuous, too.