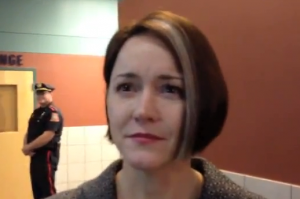 After numerous teachers, parents and activists criticized Deborah Gist to the state Board of Education for the heavy-handed ways in which she has brought the so-called education reform to Rhode Island, the embattled education commissioner told me she doesn't consider herself a member of that movement.
Gist was trained by Michelle Rhee, who is the national face of this movement. She's a Chiefs for Change board member, which the Washington Post calls the "national education reform leader."  She's a also graduate of the conservative Broad Institute, where ed reformers often go to learn the trade. More importantly, her biggest efforts here in Rhode Island have aligned with the signature reforms of this movement across the country: more charter schools, high stakes tests and new and more rigid teacher accountability requirements.
Gist has also implemented the first ever statewide education funding formula, but it slowly phases in over decades. Urban districts – those most affected by her other reforms – have complained that the funding isn't aligned with the reforms.
She also expressed what I took as genuine concern for the complaints that have been leveled against her by educators recently.
Next: I will post video from our conversation about what she is looking for in a contract extension from the state.