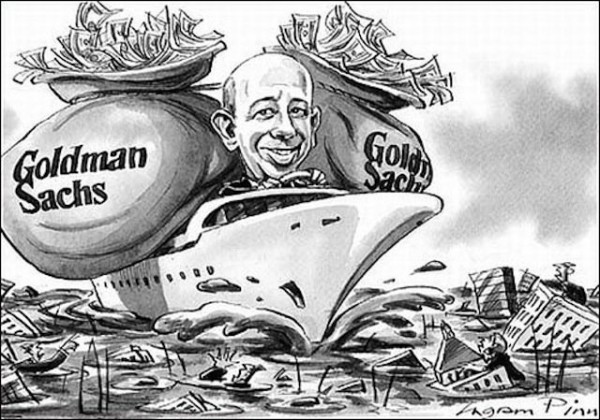 One of the Wall Street's infamous "too big to fail" investment banks, whose reckless investments and profiteering would have destroyed the American economy but for a public sector bailout, is coming to Rhode Island tomorrow to offer business advice.
Goldman Sachs will be welcomed by Governor Gina Raimondo, Senator Jack Reed and Providence Mayor Jorge Elorza (11am at NBX Bicycle in Providence) where they will announce the big banks' 10,000 Small Businesses program is coming to Rhode Island – the first time it has been used "in an entire state," according to Providence Business News.
The 10,000 Small Businesses program offers business training and loans to small businesses.
"This is a great program with real results across the country," said Raimondo spokeswoman Marie Aberger. "It is a huge opportunity to bring a significant investment to Rhode Island's small businesses and entrepreneurs to help them create jobs. To date, Goldman Sachs 10,000 Small Businesses has reached 30 sites across the U.S. and UK, helping entrepreneurs break down barriers to growth."
But Goldman is not best known for its altruism.
In January, Goldman agreed to pay $5 billion for its role in the financial crisis of 2008. It didn't simply make risky investments in risky mortgage loans. It made billions of dollars betting against the same subprime mortgages that were bundled together and sold to clients as a sound investment, then hid their massive profits offshore to avoid paying taxes.
A year after getting caught, Goldman launched its 10,000 Small Businesses program, which some surmised is a public relations attempt to whitewash the investment banks' poor public perception. "In late 2009, just as Goldman Sachs was being widely slammed for showering billions in bonuses on its employees after receiving a massive federal bailout during the financial crisis, the investment bank announced — coincidentally or not — that it was committing $500 million over five years to help small businesses in distressed urban and rural communities across America," according to Fortune in 2011.
Give Goldman credit for knowing which which way the economic headwinds are blowing in the American economy. A spokeswoman told the Fortune reporter, "…we are obviously focused on economic growth. And small businesses are one of the smartest investments to drive growth in communities in the U.S."
Rhode Island businesses should take any free money or advice Goldman Sachs is offering. But I would advise them to read the fine print extremely carefully. And to remember the immortal words of Mark Twain, who once said, "I learned something from everyone I've ever met, most of the time it's what not to do."
Goldman Sachs: too big to fail, but not too big to help RI small business

,