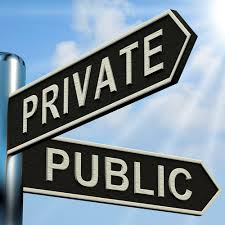 In between telling its readers the street price of pot, claiming exclusives and scoops other outlets have already covered, and trying to force-feed readers another slideshow, the misnamed GoLocalProv also publishes a few right-wing to "centrist" commentators. The one who is (in Douglas' Adams' famous words) "mostly harmless" is Russell Moore; the former Warwick Beacon reporter / Caprio for Governor campaign worker. But Moore's most recent column stepped into strange territory. Moore states:
Nobody can tell me that the government bureaucrat is a public servant but a private sector business owner isn't. Without the private sector, and the risk takers that keep the engine of commerce running, we wouldn't have a public sector.
Yes, that's a collection of business class-babble. And a lot of it is untrue. Let's unpack this a bit more, when Moore gives us his definition of public service:
…when someone starts a business and employs people, and pays taxes, there's no doubting that that too is public service.
Nope. Paying taxes is not a public service. Paying taxes is part of a citizen's social contract with the government so that government can provide genuine public services so that someone's private service can function. Starting a business is not a public service. It's a decision you make with the intention of gaining profit. Employing people is not a public service, it's something you do so that you have the productivity to turn a profit.
Moore's definition of public service is so expansive, we can even turn it on its head a bit. If employing people is a public service, then surely being employed is a public service as well, since you provide productivity for someone else to make a profit while also earning income to pay taxes. Heck, it's so expansive that it covers everyone in the country, since there is no one who does not pay tax at some point.
Meanwhile, genuine public servants (Moore's "government bureaucrat" – gee, I wonder why that word was picked…) are out there doing things like enforcing laws so that other private citizens don't destroy Moore's business owner's profits. Or putting out fires so that other negligent private citizens don't destroy Moore's business owner's profits. Or registering and regulating businesses so that fraudulent hucksters don't destroy Moore's business owner's profits. And they do it all without expecting that they'll make more money if they do their absolute best. Unlike a private business, if the government earns more than it spends, it doesn't necessarily get to keep that money and expand capacity or reward productive employees (or overcompensate executives as some less scrupulous businesses do).
Instead, public servants get what the whims of legislators (and by extension, voters) and the negotiating skills of their union representatives bring them (and that latter bit was hard fought for and continues to be hard fought to protect). Yes, they get paid, they get benefits, etc., and they have stronger protections than private sector workers, but they've fought hard to keep those.
Okay, let's go to another Moore gem:
…far too often it seems like the needs of the private sector get lost in our political dialogues. At times, it seems like we've lost sense of the interconnectedness of the two sectors.
Take that first part of the sentence and compare it with recent legislative history. Let me point out that the General Assembly did not introduce and pass a set of 25 bills to improve conditions for the struggling citizens of this state. They certainly did not create a new executive office complete with a cabinet secretary position tasked with looking for ways to make life better for the state's hardest hit citizens. The focus of the "Moving the Needle" package was business.
It's odd for Moore to be the one suggesting we've failed to consider how government and business are interconnected, when he routinely calls for lower taxes, less spending, and laxer regulations. All of that translates into fewer public services that can benefit business or keeping the rules and laws enforced.
But my favorite part of Moore's off-kilter argument is back in that first bit I quoted: "Without the private sector… we wouldn't have a public sector."
Look, I don't care where you stand in politics; left, right, up, down, etc… you should have enough knowledge to know this isn't true. You don't have to look far back to see public sectors existing without private sectors. The fact that the idea of private industry is only a relatively recent concept should be enough to dissuade you of this notion. Now, don't get confused and think that I'm suggesting that a world without a private sector is preferable (they're clearly not). I'm saying that, regardless of ideology, you have to acknowledge that it can, has, and probably will continue to be done.
In contrast, there is virtually no flourishing and peaceful private sector that has existed without a public sector. You can't have a market if there's no one there to ensure that people play by the rules.
Public servants have been under attack for the last few years. While the State has been willing to break its contracts with public servants in the form of pensions, it's been more than willing to keep its contracts with private business with the 38 Studios bonds being the best example. Media often asks for the insight of business into government, whereas it rarely asks public servants their opinions and wouldn't dream of asking for their insight into business. The writers who grace GoLocalProv's pages routinely insult public servants and portray them as barriers to progress, impediments to business, drains on the economy, and a thousand other such insults. Now, Moore is trying to appropriate the good feelings Rhode Islanders hold for public servants by expanding the label to cover those in private service (but specifically business owners, not all private sector workers).
I know that the pageview journalism GoLocalProv engages in is a relatively shameless enterprise, but I hope some of its writers (oh, I'm sorry, "mindsetters" trademark yadda yadda) have a sense of shame when they publish ill-conceived articles that fail to understand the fundamental differences between "citizenship" and "public service." We shouldn't get those confused, though I know it's a bit hard not to for media folks sometimes.
GoLocal's Russ Moore misdefines 'public service'

,