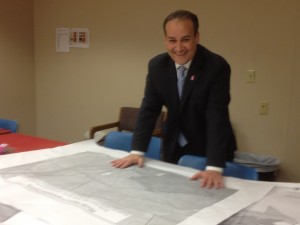 The best thing about today being the primary is RI Future will likely not have reason to run this picture of Anthony Gemma anymore.
Seriously, we've been recycling it throughout the campaign – whether we were accusing him of phonying up his social network following, chasing him down at his announcement to ask him a question, taking on his false claims to be more progressive than David Cicilline, poking holes in his jobs plan, poking fun at him for saying he wouldn't support his fellow Democrats unless they supported him or, in his grand finale, calling him out for his wildly irresponsible allegations of voter fraud.
It's high time all of that stop, and for Anthony Gemma to go away.
He won't win, says Ian Donnis. The only thing left to decide is how much momentum his campaign will siphon away from Cicilline's defense against conservative Republican Brendan Doherty.
Thus, Anthony Gemma's big accomplishment will be making a mockery out of himself, the process and, to no small extent, the press, which took him way too seriously for way too long and gave him a toxic soapbox from which to smear his opponent with allegations of voter fraud.
It was the dirtiest campaign I ever had the displeasure of covering, and certainly the lowest I have ever witnessed a candidate stoop. And I look forward to the day when we don't see that picture on this site anymore.
So Long, Anthony Gemma

,