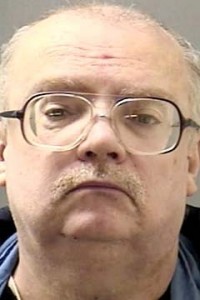 A typically long and exhaustive profile on voter suppression in this week's New Yorker starts with an anecdote of a middle-aged black woman from Ohio who had voted in every election since she was 18 having her registration questioned as a result of being flagged by right wing efforts to stifle poor people from voting.
This is when voter suppression is easy to identify.
It's not so easy when to notice, or to defend, when the voter in question is a convicted child murderer and accused cannibal who lives in a mental institution. But such is the case with Michael Woodmansee, who killed an eight-year-old boy in 1975 and was released early from prison last year and applied for an absentee ballot this year.
Rhode Island, like 35 other states, allows felons to vote after they have served out their debt to society, according to ProCon.org.
In Alabama, Delaware and Mississippi, murders permanently lose the right to vote, and in Florida a convicted murderer can petition the state for the right to vote after seven years. Only two states, Maine and Vermont, allow felons to vote while incarcerated (by absentee ballot, of course).
Setting aside the larger philosophical dilemma of whether a murderer should be allowed to vote, because the law allows them to vote – no matter how heinous his crime – we're obliged to let them do so. The state Board of Elections and the ACLU deserve credit for recognizing the sometimes unpleasant reality to living in a civilized society: you gotta play by the rules even when it feels yucky to do so.
Here's the statement from the ACLU, after Joe DeLorenzo became the second member to resign from the Board of Canvassers, rather than sign Woodmansee's ballot request.
Last week's unlawful decision by the chair of the Cranston Board of Canvassers to deny an absentee ballot application simply because he personally opposed that person's right to vote was an egregious violation of the democratic process. That he would do so only four years after unsuccessfully trying to bar two other residents at the Eleanor Slater Hospital from voting amounted to a flagrant case of malfeasance.

People who are institutionalized for mental illness do not lose the right to vote under the law. Nor do people who have committed heinous crimes but have served their prison time. No election official has the authority to prevent a person from voting simply because he doesn't believe they deserve to exercise that right. Allowing this undermining of the electoral process to stand unchallenged would have established an unconscionable precedent.
While DeLorenzo (who was on Dan Yorke Monday) and Robert Muksian are certainly within their right to resign, they were also certainly not well-suited for the positions they were appointed to. Their job was to administer and oversee elections, not to determine whose crimes were atrocious enough to warrant disenfranchisement. The General Assembly, through 17.9.2-3, had already done so.
In fact, that law reads to me like Woodmansee should have been given the option of re-registering upon his release from jail.
Michael Woodmansee is the worst type of criminal, and there's a part of me that feels like he doesn't deserve to participate in the democratic process  … but I'm pretty sure it's better to have a good system defending a bad person than to have a good person defending a bad system.