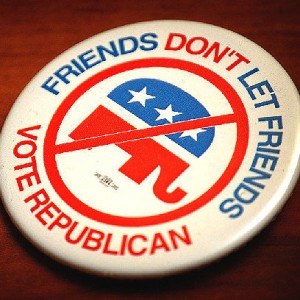 So, according to RINPR's Ian Donnis, RI Republican Party chairman Mark Zaccaria only plans to run 40-50 candidates for the 113-member General Assembly (about half of the number who ran in 2010 during the Tea Party Revolt). Mr. Zaccaria says that the goal is to force floor fights over every major piece of legislation, and that the focus on fewer candidates will allow for deeper distribution of resources.
I'm not buying it. First, Democrats are extremely well-equipped, monetarily, to fend off challengers (for instance, Speaker Fox alone has a quarter of a million dollars, search the filings here). Second, I'd be more inclined to believe that the RI GOP was a strong and credible organization if they actually came off that way. But go to their website and tool around for a bit. I found these problems with it:
The carousel only has one thing on it, leading to lots of clicking on those arrows.
The sole item in the carousel asks if you've heard their radio ad, but clicking on it just brings you back to the home page.
The "At The Front" blog has one article, which discusses Rhode Island Democrats and hardly mentions the Republicans.
There are no events on the events page.
The lead story in "Latest News" is the selection of Delegates for the Convention.
There's a Twitter feed, but it's used so rarely (tweets from 13 and 28 days ago) that it might as well be static.
RIGOPtv (their YouTube channel) shows a video from 2011 about the jobs plan put out by the U.S. House Republicans.
The "About" section is about Mr. Zaccaria, not the party.
Obviously, the Democrats have a much better website (they also have more money to spend on it). And obviously, you can have a crappy website and still be a really great organization. But in the 21st Century, we should note that websites are often the first impression you make on people. And RIGOP.org is not an inspiring impression, though its big candidates (Brendan Doherty & Barry Hinckley) have much stronger websites.
My main issue is with any political organization (Republican, Tea Party, Democrat, Progressive, Green, Moderate, etc.) looking to undo the establishment is that "less is more" does not seem to be an actual functioning approach. There's just so many things you get from more candidates:
A Sense of Movement: When you have a lot of people standing up and declaring themselves under your banner it makes people take notice. It also means that you have more chances to win. If you can't assist everyone with your meager resource, then focus on those you believe have a chance, and make it clear to those you can't that you'll help them if you gain those resources.
Larger Networks: Each candidate brings in a different social network. The more candidates that are running, the greater amplification of your organization's message through their networks. Also, the people they attract to their campaigns are going to be your next generation of candidates and supporters. With fewer candidates, you're restricting yourself.
Drowns Out the Wackos: Some people just have weird beliefs. And they're often dedicated enough to act upon those beliefs. More candidates means that you'll keep those folks from totally defining your organization. Obviously, if you're not a political party, you can exert more control over your candidates. But since the only way to keep someone from running under your banner as a party is to primary them, more candidates means you can show such candidates to by atypical.
Free Experience: Training people requires work and time. While it behooves you to offer training to candidates and their staff, there's nothing like real, on-the-job experience. Yes, inexperienced people screw up. But that's how people learn. Your goal as a political organization should be to minimize and counteract those mistakes, making it easier for people to participate without sinking your candidates.
Those are benefits I see. Certainly, I'm no heroic field director or party organizer. I think for the Republicans to announce that they're fielding almost half of the candidates they had in the last election makes it look like they're contracting, rather then expanding. Which makes them look far weaker then might actually be the case. And if the emphasis is going to be on quality rather than quantity, you have to be of better quality then your opponents.
The other issue here is that perhaps the Republicans have set their sights too low. Forcing a floor debate on major bills isn't exactly the rallying cry that inspired Tea Party activists last election cycle ("We Want Our Country Back!"). If someone promised me they were going to lose a lot while talking a lot, I'd laugh in their face. The promise needs to be big: our members are going to have control of the state. That should be the promise of any party or organized faction in the state. Republicans aren't even promising to take one chamber of the General Assembly.
Because but no matter your goal, you're probably not going to live up to it (unless you're the ruling Democratic Party). And if you're going to go down, go down kicking and screaming, because whimpering doesn't look strong.
GOP Strategy for General Assembly Needs Work

,