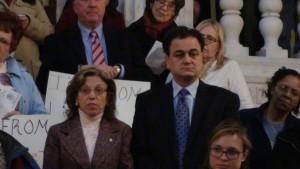 After a short stint spent ostensibly serving the public, former House Speaker William J. Murphy now pointedly serves himself at the public's expense working as a hired gun for predatory lenders Advance America, which has paid Murphy $50,000 to lobby the General Assembly on its behalf.
Like any hired gun stripped clear of conscience, Murphy is unconcerned with the harm his corporate masters inflict on the most vulnerable members of our society. In fact, Murphy seems to like the money mercilessly drained from low-income families so much he has signed up to repeat last year's performance.
Surely, to be able to advocate properly for Advance America (whose name could not be more ironic) Murphy has acquainted himself with the arguments and analysis those in favor of banning payday loans have made. Murphy must know that payday loans:
Drain money from low-income communities in the form of high interest. The money drained leaves the community and goes directly into the bottom line of companies like Advance America and the pockets of corporate lobbyists like William Murphy.
Exploit financial hardship for profit by targeting those in low-income communities and those who live near military bases. Whereas middle income families can get loans with interest rates around 25%, under the terms of payday loans available in Rhode Island low-income families can pay %260 or more!
Are made by companies that often resort to aggressive, possibly illegal advertising and collection strategies.
Payday loans amount to legalized racketeering. Companies like Advance America function by exploiting loopholes in the laws against usury. That is why payday loans are illegal in thirteen states, including Connecticut, Vermont, New Hampshire, Maine and New York, and highly regulated in Massachusetts.
No wonder Advance America fights so aggressively here in Rhode Island. Our state is the only one in New England that allows the immoral practice of gouging our own poor.
On Wednesday I attended a vigil held by the Rhode Island Interfaith Coalition that sought to call attention to the evils of payday loans. In attendance were over one hundred people representating over 30 faith and non-faith traditions. Governor Chafee said a few words, and Senate President Paiva-Weed stood side by side with House Speaker Fox watching the proceedings.
Speaker Fox seems unmoved by the vigil. In the ProJo, Fox said,
Obviously, there are advocates who say that it's a necessary service and that if the service was not there, then these folks would go somewhere else and then there are advocates on the other side who say they are predatory lenders and they should be put out of business.
Rep. Frank Ferri introduced legislation effectively banning the practice, and Sen. Juan Pichardo said he will sponsor the bill in the Senate, but Fox seeks compromise. How effective the compromise that Fox seeks will be remains to be seen. Fox's re-election this year was not as simple or obvious as it appears in retrospect. Stumbling on issues like payday lending will mobilize those who live in his district (like me) to begin a very real search for his successor.
Fox might have been hand-picked by William Murphy to lead the House in his wake, but Fox was elected by citizens who care more about those suffering from grinding poverty than they do about Advance America's bottom line or William Murphy's next $50,000 pay day.
Gordon Fox, William Murphy and Payday Loans

,