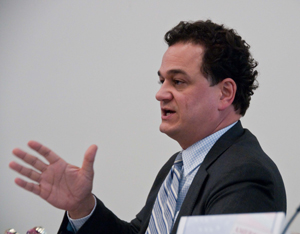 The ProJo reports that House Speaker Gordon Fox, or at least his staff, is "miffed" that Mark Binder, who is challenging him for his seat in the House, is blogging about it for RI Future. Who can blame him? I'm sure Fox would much prefer to run either unopposed or against a candidate that doesn't write for a local news website. (Here's a piece I wrote this weekend about why we allow candidates to blog on RI Future.)
Well, we're a little miffed, too. Here's why:
The Providence Journal misreports Binder's role with RI Future. Political Scene says this morning that Binder is "now a columnist for a left-leaning website." But at least one of the authors of the weekly political column knows this isn't accurate – Binder was a contributor long before he declared for office. In response to an email from Kathy Gregg last week about Binder's role with RI Future, I wrote, "Mark was an RI Future contributor before declaring for office." Our archives corroborate this as well – so does his post that the column quoted.
On this point, we believe the newspaper owes its readers a correction. To incorrectly claim that Binder is a new RI Future writer gives credence to the false claim that we are targeting Fox. Projo readers should absolutely be informed that the Speaker's staff thinks this, but they should know that there is evidence to the contrary.
We're also a little bit miffed with Fox's spokesman Larry Berman, who told the Projo that RI Future "has chosen to target one of the most progressive Speakers of the House in modern history."
This is not at all the case. Berman and I had several long and heated discussions about Binder's role with RI Future last week, and I explained to him what was in my other piece this morning on why candidates blog for RI Future and what was in my email to Gregg: It isn't an endorsement, Fox is more than welcome to blog as well and candidates' posts are about giving Rhode Islanders access to information about the progressive movement, not picking winners or losers.
We're not targeting Fox. In fact, we wholeheartedly agree with Berman's description that he is one of the most progressive speakers in recent history. We're giving a progressive the ability to express his message to Rhode Islanders. That's what RI Future does! The converse would be to silence one of our contributors because he is taking on a powerful member of the establishment, something that I think would be unfair both to the small business we are trying to get off the ground and to the people of Rhode Island.
Some have suggested to me that there will be political ramifications for giving a political opponent of the Speaker of the House, known as the most powerful person in state government, a platform. I don't think there will be. I believe that Gordon Fox and his staff respect greatly the rights of a free and open press as well as a diversity of voices in the local marketplace of ideas.
Gordon Fox Is 'Miffed' at RI Future

,