"I was born during World War I, above my father's Chinese American restaurant in downtown Providence, Rhode Island."
– Grace Lee Boggs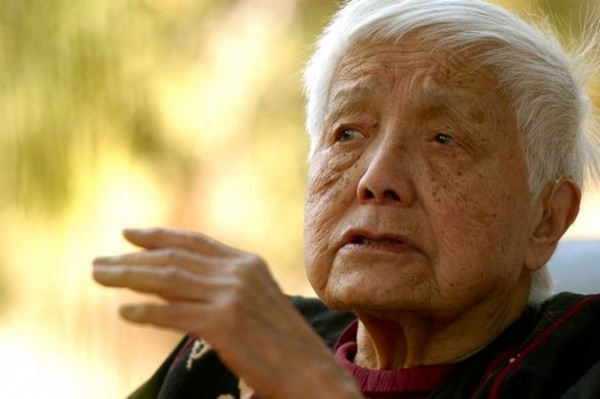 Grace Lee Boggs, who recently passed away at age 100, spent much of her life in what she described as the "great humanizing movements of the past seventy years- the labor, civil rights, Black Power, women's, Asian American, environmental justice and antiwar movements."
Grace Lee Boggs was a research associate of radical Caribbean Marxist CLR James, organizer among Socialists, activist for black Detroit Auto Workers, a colleague of Malcolm X, facilitated and promoted a network of small scale community gardens across abandoned neighborhoods in Detroit, organized youth leadership programs called "Detroit Summer," and came to argue for a people oriented vision of radical, deep engagement in one's community to create connections and tangible good.  Born in Providence, educated in New York City, she lived, married, organized and passed away recently in her beloved Detroit, Michigan.
After being born in Providence, Grace Lee Boggs' family moved to New York, and she grew up in Queens. Providence's Chinatown was mostly eradicated by the urban renewal and highway construction programs of the 1950s and 1960s. Lee Boggs studied at Barnard College on a scholarship, and earned a PhD from Bryn Mawr College in 1940. Discrimination and prejudice limited her ability to work as an university academic, and she took a job as a research librarian. She became a collaborator with CLR James and Raya Dunayveska, Marxists who were critical of both of the Soviet Union and United States (not a popular position in Cold War politics).
In a Cold War era book she helped write with James and Dunyaveska, "State Capitalism and World Revolution," Lee Boggs described the types of violence perpetuated against ordinary people around the world by both the "stranglehold of Stalinism" and the United States. In the 1950s, she and her peers wrote:
"Whether democratic or totalitarian, both types of society are in permanent decline and insoluble crisis. Both are at a stage when only a total reorganization can lift society a stage higher. It is noteworthy that in the United States the capitalist class is aware of this, and the most significant work that is being done in political economy is the desperate attempt to find some way of reconciling the working class to the agonies of mechanized production and transferring its implacable resistance into creative cooperation. That is of educational value and many of its findings will be used by the socialist proletariat. In Russia this resistance is labeled "remnants of capitalist ideology" and the whole power of the totalitarian state is organized to crrush it in theory as well as fact."
In her last book, The Next American Revolution: Sustainable Activism for the 21st Century, she writes, "I came to Detroit in the early 1950s because as a Marxist I wanted to be part of a revolution in which the workers n the auto factories would take the struggles of the 1930s to a higher level by struggle for worker' control of production in the plant. My main difference with traditional Marxists was my belief that blacks, women, and young people, and not only workers, would play pivotal roles in this revolution."
She noted, "Living with Jimmy Boggs (her husband, Alabama born, African American autoworker and labor organizer) it was not long before I realized that my ideas had come mostly out of books and that my expectations had little or no relationship to the reality that was rapidly changing around me. When I began living in Detroit in 1953, Jimmy, a member of the United Auto Workers, was still mainly engaged with his fellow workers in struggles in the plant against automation and speed-ups (which workers in the plant called man-o-nation). "
Jimmy came to see that high-tech automation was changing the industry, and that the role of workers in car production would be irrevocably different. He and Grace became active in Black Power circles, seeking to mobilize young people. When the riots (or rebellions) of the late 1960s broke out, both came to reflect that militant organizing in itself was not a path to broad social transformation, even if real expressions of oppression and  frustration.
As she wrote, "…our main responsibility as revolutionaries was to go beyond protest politics beyond just increasing anger and outrage of the oppressed, and concentrate instead on projecting and initiating struggles that involve people at the grassroots in assuming responsibility for creating new values, truths, infrastructures, and institutions."
She saw many movement leaders become establishment politicians. She felt that without actually, creatively challenging and changing the rules, habit and structures of governance, the same interests would be promoted, by design, and regular people would be harmed. She saw political figures in Detroit spend huge amounts of time, money and energy working to hold onto a rapidly automating auto-industry, and little in creative thinking for building alternatives and opportunity for the actual people left behind by automation. Much of her later life was spent founding community organizations and ways for people to organize and build a future themselves, different from the one so often dictated to them.
Grace Lee Boggs, born in Providence, wrote, "…we need to recognize that the aptitudes and attitudes of people with BAs, BSs, MBAs, and PhDs bear a lot of the responsibility for our planetary and social problems… [the challenge is] creating a new American Dream whose goal is a higher Humanity instead of a higher standard of living dependent on Empire."
Much of this remembrance gratuitously quotes from Grace Lee Boggs' "The Next American Revolution: Sustainable Activism for the 21st Century." Please check out her work.