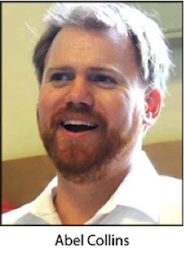 Following Abel Collins' televised debate last Friday, where he clearly bested both Rep. James Langevin and GOP challenger Michael Riley, it's more apparent than ever that Collins is the best candidate for progressives—perhaps the only candidate—in the 2nd Congressional District. He's a genuine peace and environmental advocate who's determined to get big money out of congressional politics. His election to Congress would be good news for those who love peace, and those who long for democracy in America.
In a first for Greens, these qualities won Collins—an independent—the Green Party's endorsement at its state committee meeting in August. A statement at the time called Collins Rhode Island's best choice for Congress, saying he'd be a "strong, clear voice, for the people and the planet."
"Of course it's possible to challenge the two-party system," Collins declared. "What's not possible is to sustain the unsustainable, to make more fossil fuels, or create a peaceful society when people are motivated by fear, and not by love." After his endorsement, Collins told the Greens he is "proud to be the peace candidate in the race, and proud to have the endorsement of the Green Party."
After Collins' strong performance in this week's debate, a lot more Rhode Islanders will give his campaign a second look. If enough voters were tuned in, Abel's progressive campaign is going to do very well on Tuesday.
Tony Affigne is state committee chair for the Green Party of Rhode Island. Visit the Greens at www.RIGreens.org
Debate Confirms: Collins Best Congress Candidate

,