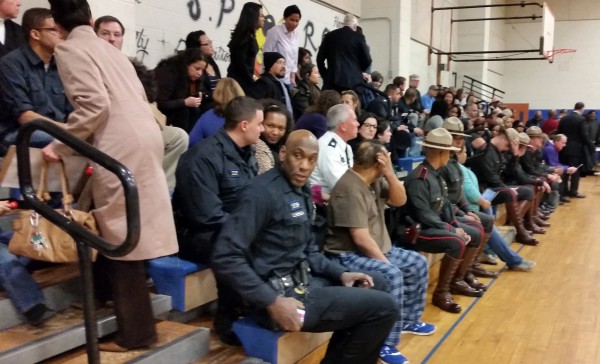 I chose to live in Providence.  I have lived in other cities and moved back to the Capital City.  Providence is a city with many wonderful things to offer, but big cities come with big problems. One of our problems is guns. We all agree there are too many on the streets and we, as a community, respect and understand the Gun Task Force (GTF) aka the Jump Out Boys is a necessary unit. They do a lot of good work when it comes to taking guns off the street but because they do a dangerous job does not give them the right to degrade and humiliate the same citizens they are paid to protect.
I have said publicly many times that Commissioner Steve Pare and Chief Hugh Clements are part of the solution. Both are forward-thinking men. My community and I thank you for them for it but there have been many many complaints and many meetings with the GTF. They just don't seem to get it.
On the night of the 15th Kobi Dennis's son left work and started walking home with two other friends.  Two men jumped out of a car, swore at them, took a backpack out of his hands went through it and threatened them.  These boys did nothing suspicious.
I know Kobi's son very well.  He is a thoughtful, quiet, well-spoken young man. He has worked at the McDonalds' for over 2 years and is heading to college. Because I know this young man and the family he comes from I can guarantee you that he was polite and complied with every order these officers gave, but why should our young men have to go through this?  Let's be honest, the GTF knows "the players" in the game.  They also know when they are just plain harassing our black and brown young men.
You have known me and many other "activists" through our work in the community and the programs we run for our youth.  The constant bad behavior of some PPD members has forced us to turn our attention to them.  This is not by choice but by necessity.
Real change needs to happen.  It won't happen overnight and there will be dissension.
We need true community policing.
We need police officers that that WANT to be engaged in our community.  So many come to So many come to events and stand on the sidelines or even worse sit in their cars and watch.
We need diversity training and not only for the rank and file but for the command staff.  It was only a few weeks ago members of your command staff made disparaging racial comments on Facebook.
We need more minority police officers.  One of the reasons our young men and women have no interest in applying is because of their experiences with PPD.  Look into what cities with proven results have done to recruit.
We need a community liaison who could not only mediate issues by also create transparency and openness.
We need a citizens review board.  Somewhere citizens can go with issues other than PPD.  As you know, for some, the department is a very intimidating place to enter.
And lastly, you need to disband the Gun Task Force Unit and start over.  Look for different qualities and personalities when hiring for this very important and specialized unit.
Putting these two officers on desk duty is a good start but could we really take some action now? I would like to invite Commissioner Pare, Chief Clements, FOP President Taft Manzotti, the GTF and any other PPD member to attend our respectful and controlled Community Forum on Friday April 24th from 7:00 – 9:00 pm at The Salvation Army, 386 Broad Street.
Gun Task Force conduct shows need for more community policing in PVD

,