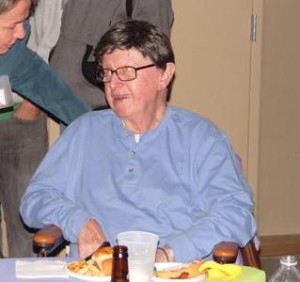 Still organizing for justice at 82!
Let us all celebrate Henry and the George Wiley Center this Friday at the East Providence Yacht Club at 6pm. On Facebook, you can register here.
A former priest who took the words of Jesus to heart (you know the ones about serving the poor) Henry quit the catholic church and became Rhode Island's most respected hell-raiser, a community organizer of the highest degree for issues of economic justice, human rights and community empowerment since the mid 60s. Along the way he has forged a stellar reputation within the halls of power and in the community where he has been a determined advocate for that most neglected of populations: the poor.
Over the years, Henry has helped start numerous organization including RI Welfare Rights, The Coalition for Consumer Justice, W.A.G.E., the RI Handicapped Action Committee and the George Wiley Center where he has been the director for the  last 31 years. Many of the consumer and community welfare victories of the last almost half a decade can be traced to Henry's advocacy such as the Utility shut-off policy, the elimination of the sales tax on clothing, handicapped access all over the state, the defeat of the Charlestown Nuclear Plant, universal free breakfast for school children and the Henry Shelton Act, passed last year which makes utility companies work out a clear payment and forgiveness plan for past due balances.
Of course, he wasn't alone doing this. A large part of Henry's legacy is how many of today's advocates in direct action and door to door community organizing started through his work. Indeed, at one point, the Coalition for Consumer Justice had a staff of 65 paid people encompassing canvassers, organizers and directors along with 15 chapters working on local issues and joining together on issues of statewide importance. Henry knows every official who has served as the head of all the agencies he has dealt with over his 4 plus decades and all the elected officials as well. When I was president for 5 years,  my favorite part of the Wiley Center board meeting was when Henry would give his report and slip into tales of past encounters and victories over the years. Many a governor, judge, CEO, senator, speaker and mayor have had to learn the hard way that Henry was not someone who would just go away. And Henry almost always won when that happened.
Henry is a living testament to never giving up and although he has been slowed by a stroke over the last few years, he is still organizing and to prove it, he made sure that I mention that there is an action this Monday at the PUC on Jefferson Boulevard at 3pm which you can learn more about here. Support Rhode Islanders struggling to stop utility shut offs!
Help us all say thank you for decades of dedicated commitment to change, advocating and creating power for the powerless. Happy Birthday Henry Shelton! Keep on pushing!
If only we all could keep going like him.
Come join us on the waterfront in East Providence for food and music, and to celebrate organizing for social change in Rhode Island for over 5 decades.
To learn more about the George Wiley Center, visit http://www.georgewileycenter.org/ or read this story from Progressive Charlestown.