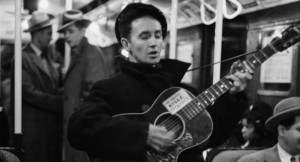 Woody Guthrie may be best known for rambling the ribbon of highway between the wheat fields and the Redwood forests but on February 23, 1940 he was on the New York island, and he penned the greatest ever American anthem.
"The sun comes shining as I was strolling
The wheat fields waving and the dust clouds rolling
The fog was lifting a voice come chanting
This land was made for you and me"
The "Oklahoma Cowboy" (as he was known as at the time) had just recently arrived in the big city and staying at the Hanover House, one of the many cheap hostels in the city. (Please check out this amazingly cool interactive history of the Hanover House here) It was on 6th and 43rd, just a block from Times Square and, somewhat ironically, across the street from where the Bank of America and the Wall Street Journal buildings are today.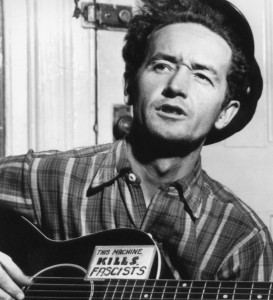 Throughout the 30's Guthrie had hoboed around with Dust Bowl migrant workers and was coming from California where he was not only an aspiring folk star, he also worked as a columnist for a leftist newspaper. These lyrics were written at the Hanover House, but were too radical to make the original recording released in 1945.
"One bright sunny morning in the shadow of the steeple
By the Relief Office I saw my people
As they stood hungry, I stood there wondering
if God blessed America for you and me"
And
"Was a high wall there that tried to stop me.
A sign was painted said: Private Property,
But on the back side it didn't say nothing —
God blessed America for me."
The first version didn't even contain the final phrase for which the song is famous for. Guthrie wrote it as a counter balance to Irving Berlin's jingoistic "God Bless America" which was being revived as a pre-World War 2 battle cry. Equality and opportunity are what set our society apart from the Nazis, he reasoned. Blind allegiance and belief in dogma, that's what we have in common.
NPR did a great story on how the song has evolved over the years.
Bruce Springsteen, Guthrie's heir apparent as the people's poet, once called it "the greatest song ever written about America."
It gets right to the heart of the promise of what our country was supposed to be all about. If you talk to some of the unemployed steel workers from East LA or Pittsburgh or Gary there are a lot of people out there whose jobs are disappearing and I don't know if they feel this song is true anymore and I'm not sure that it is but I know that it ought to be.
That was in 1985. Bank of America was still a regional operation and Rupert Murdoch didn't own the Wall Street Journal. Almost 30 years later – and 73 years after Woodie Guthrie first wrote America's most famous song, we have less reason than ever to believe this land was made for you and me.