I live-tweeted the experience of getting a state ID sometimes under the hashtag #Paisleygate, a joke on the fact that I wore the same weird paisley shirt to get my last ID in Pennsylvania as I did when I went to get my Rhode Island ID earlier this week. But the broken process of getting a state ID card if you aren't a driver or already a Rhode Islander is no joke.
Today I'm getting my non-drivers' ID, and I wanted to wear the same Mardi Gras paisley as I did last time. pic.twitter.com/U8KacRQGRq

— TransportPVD (@TransportPVD) February 17, 2015
It took me two separate bus trips to-and-from the Pastore Center in Cranston from where I live in Providence. This was after a year of wrangling to get other pieces of paperwork like an original of my birth certificate – I only had copies – which are difficult to obtain without a valid ID.
I am a failed human being. My paperwork is wrong so I have to go back to PVD, get the right stuff, and return. Voter IDs are hard…

— TransportPVD (@TransportPVD) February 17, 2015
A couple things I've learned:
1. You cannot get a non-drivers' state ID from any of the in-city locations. You have to go to the John Pastore Center on the Cranston/Warwick line, which for non-drivers is quite a hike on an infrequent bus. The clerk at the DMV made it clear to me that if I had been a driver and had a drivers license that was expired, it would have been no problem for me to use it as a supporting document, but that because I only had a non-drivers' ID, I couldn't. Location and process are really tilted against non-drivers.
I would love to skip the multiple bus trips & fix this at the place near KP, but foreigners from out-of-state cannot.

— TransportPVD (@TransportPVD) February 17, 2015
2. The cost of the ID itself is pretty significant: $26.50, with a $1.50 charge if you use a debit card. The cost of a drivers' license is somewhat higher, but the gap is pretty small. There was a great analysis of how many states have an apparent gas tax, which is then exempt from sales tax, and how this exemption inflates the value of the gas tax. The cost to get a drivers license should be looked at in the same way, since the base cost for an ID is so high. An ID fee is like a sales tax–maybe worse, really–because it charges people for the basic cost of being part of the workforce or voting, whereas a license fee presumably covers the cost of testing and administering road safety.
"Holy Roger Williams, Batman! It's The Bureaucrat! He's going to obstruct you with unnecessary delays! POW! ZIP! OOF!"

— TransportPVD (@TransportPVD) February 17, 2015
3. You must have originals! Don't even bother trying to talk your way into a voter ID with photocopies, even if they're accompanied by other documents, like college IDs, FBI background checks, BCIs, Medicaid cards, library cards, etc.
4. As a Warden of Elections, I've been instructed many times at trainings to turn away people with IDs that are unexpired and valid but not from Rhode Island, even if those people have corresponding documents to prove their Rhode Island addresses.
Note to self: FBI background check papers *do not qualify* you to vote or drink, only to teach.

— TransportPVD (@TransportPVD) February 17, 2015
5. Unless you have everything together perfectly, this whole process is going to cost you a lot of time. I've had copies of things like my birth certificate lying around the house for years for whenever I've had to start a job, but since I had to get an original, and didn't have a non-expired ID, it took me about a year and a lot of interventions from family to get the new stuff in order. And because of the remote location of the Pastore Center, getting an ID as a non-driver means essentially taking a day off. The Center also closes at 3:15 PM, which is kind of ridiculous too. I brought the wrong paperwork the first time, so I actually  made two trips back-and-forth by bus, racing against time with the ridiculous closing time and infrequent bus schedule.
Armed w/appropriate paperwork & requisite change, our protagonist marches out. Will he make it before the 3:30 DMV closing time?!!!

— TransportPVD (@TransportPVD) February 17, 2015
How can we reform this? My thoughts:
1. A state ID should be available in urban locations. There are centers where one can go to renew existing IDs, but not to get new ones.
2. A state ID from someplace else should be as useful to getting a new ID as a drivers' license from somewhere else is. This distinction is inequitable, and silly.
3. State IDs should be free.
4. Duplicates should be allowed, or at least a broader array of paperwork types.
5. One should be able to get an ID at night or on weekends. The Pastore Center closes at 3:15 PM! Possibly changing the ID process so that it isn't taken on by the DMV would make sense, since identification for voting and working purposes is an entirely separate thing than driving.
The voter ID process and documentation needed for working has been something I've been aware of intellectually for some time, but going through the process really changed my perspective on it in ways that I didn't expect. We have to change this if we're going to stop disenfranchising people year after year.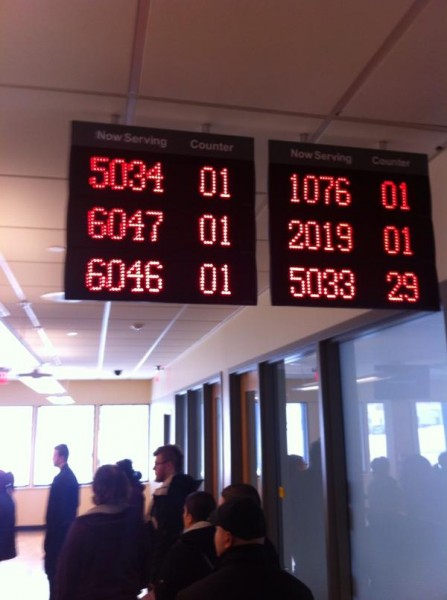 ~~~~
Hard times at the DMV getting a non-driving state ID

,