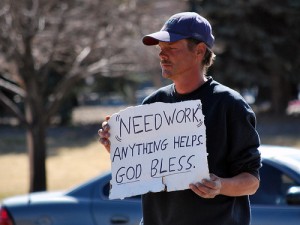 Rhode Island has an unemployment problem that has no quick solution. One of the lessons learned from the rhetoric and subsequent results of our most recent election cycle is that an economic rebound and resultant hiring hike is not going to come in the form of a vertical jump on the line-graph.
Nor should it.
Such sudden upswings tend to be followed by equally as drastic drops creating the shape that coined the phrase "spike." The state doesn't need a spike. What is needed is a long term solution that builds a real and diverse economic foundation rather than a quickly constructed house of cards.
It seems that every conversation that occurs about the subject turns every individual involved into an expert with his or her own take on the matter. There are currently about 60,000 different theories of how to solve Rhode Island's economic mire. This purely hyperbolic number of proposed solutions has a margin of error of 50,000 in either direction.
In the meantime, jobless individuals still need a safety net. And businesses around the state still money coming in to keep their doors open and their staff working. But it seems as if the DLT administration has given up. Due to major cutbacks last summer based on a sunset on federal stimulus funding for operations and a lack of initiative to locate funds at a state level, the department, by their own admission, is understaffed.
Recent reports by the Providence Journal as well as local NPR discussed long wait-times and insufficient technology to keep up with high claimant volume on busier days. And, at some point in the future, sources report contact by telephone will no longer be an option. Official spokesperson, Laura Hart, said, "The department now has 123 workers assigned to unemployment insurance, Hart said, down from 151 before the layoffs."
But, keep in mind, that does not represent an accurate number of staff assigned to answering phones. That number includes the Central Adjudication Unit whose sole function is to fact-find and render decisions on entitlement to benefits based on separation issues. They don't process claims. They determine, by law, who gets to collect. When administrators decided which classifications to cut when initial lay offs were being conducted back in July, that job classification was completely protected, whereas, those who answered phones and provided front-line, customer-service was initially reduced by close to two-thirds. Some have since been recalled through specific grant funding designated to technological improvements.
Granted, long term unemployed will no longer be a concern as Emergency Unemployment Compensation (Federal Extended Benefits) will be completely cut off at the end of the year. And State Extended Benefits have been triggered off for over six months. So, where the average length for lack of full time work in the state is forty weeks, the period of full payments of weekly unemployment benefits is not to exceed twenty-six weeks. That is a three and a half month period with no income.
Having no income tends to make it more difficult to find suitable employment. No means by which to pay phone bills, internet bills, rent or even laundry means employers are less likely to see an individual as an attractive or reliable candidate for employment.
Furthermore, not only does that mean that jobless individuals will no longer have any income to keep up with bills, mortgage and car payments or grocery bills for themselves and their families, but those recipients of such payment will lose them. Insurance companies, grocery stores, etc., will have less income as businesses and will, subsequently, reduce their own workforce. This is basic Keynesian recovery tactics breaking down due to turning off the stimulus tap. When this happens before the drain is plugged, the basin dries up. Unemployment levels will rise and Rhode Island's recession will continue … or worsen.
On a more basic and human level, if the claimants who need assistance but have no access to internet, will be even harder pressed to find a means by which to make communication with the department for general inquiries, re-files, or basic new claims filing. Previously, the neWORKri locations would offer computer services for those without home access, but with Pawtucket and Middletown locations both closed and Wakefield only open a few days a week, that disenfranchises a significant percentage of claimants from access to entitlements in a timely fashion. Even libraries, those that are still operational, have long waits for use of internet ready computers.
And what is to happen to the employees who work in the call center when the call center is no longer a call center? Are they to be laid off, some of them for the second time in a year? All that is known for sure is that they will not be eligible for more than twenty-six weeks worth of benefits. But for all those who are left jobless from the state, the taxpayer is, once again, on the hook for their unemployment compensation benefits due to the state's status as a direct-reimbursable employer, rather than a contributory employer.
So, jobless Rhode Islanders will be hung out to dry even more than they are now. State taxpayers will be on the hook for benefits to any and all laid off from the state. The economy as a whole will suffer from lack of benefits stimulus. The question stands: has the DLT given up? The Assistant Director of Income support – the man who actually directs and implements policy for Unemployment and TDI and is well known for his draconian, micro-management techniques and demoralizing promotional decisions – has announced his retirement.
Governor Chafee will have a hard fight ahead of him if he chooses to run again in 2014 and that means DLT Director Charlie Fogarty (a gubernatorial appointment) may no longer retain that position. Have they given up? If they are no longer focusing on providing much needed income support, are they focusing on programs to increase or improve the state's labor conditions? Are they providing adequate training? In today's competitive job market, where a bachelor's degree is now what a high school diploma was  thirty years ago, are they providing tuition waivers or assistance for masters programs or post graduate certification? This particular author, a former employee of the DLT's Unemployment Insurance sector, asked the Administrator in charge of tuition waivers whether or not a tuition waiver would be possible for a masters program and was told, flat out, no.
Mark Gray of Ocean State Action affiliated Where's the Work wrote an article callled Don't Push Rhode Islanders off Fiscal Ciff, both inspiring  and complimenting this one about pushing for the re-institution of Emergency Unemployment Compensation benefits. It is recommended reading. To further that agenda on a state level, Rhode Islanders need to push the DLT to be held accountable for their mission to provide aid in Labor, Training, Income Support, Regulation. Furthermore, until Rhode Island's lawmakers are able to create and implement  successful legislative programs to restore economic stability to the state, the DLT is the state agency responsible for helping its citizens maintain economic and business stability in the labor market? The DLT is the first line of economic safety for the state and is responsible, by any means necessary, to prevent Rhode Island's citizens and businesses from sliding further into the economic abyss. They can't defer responsibility and they can't give up.
Has the DLT Given Up?

,