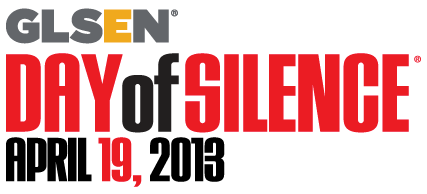 The Day of Silence is an annual protest organized by GLSEN, the Gay, Lesbian and Straight Education Network, to protest the bullying of LGBTQ students in High Schools and college campuses across the country. The event, originally a grassroots effort started in 1996, was adopted by GLSEN in 2000 and in 2013 the 18th Day of Silence falls on today's date, April 19th.
Unfortunately, here in Rhode Island and Massachusetts, this week is April vacation, so either the day will not be observed or will be rescheduled to a time when classes are in session. Either way a feeling of national solidarity will be lost, which is too bad, because this event could serve as a powerful statement in some schools where bullying is a potential issue.
LGBT students are at risk for bullying. Bullying Statistics.org reports that "about 9 out of 10 LGBT teens have reported being bullied at school within the past year because of their sexual orientation," "gay and lesbian teens are two to three times as more likely to commit teen suicide than other youths" and "about 30 percent of all completed suicides have been related to sexual identity crisis." These numbers are shocking and should serve as a call to arms.
However, several groups on the religious right have decided that it's not the rights of LGBT students to live lives free of bullying that we should be concerned with. We should instead be concerned with the rights of Christian students who wish to proselytize to their LGBTQ classmates.  The argument is made that a Christian student's right to tell an LGBTQ student that they are going to Hell trumps an LGBTQ student's right to live a life free of such abuse.
This is the same tactic used to oppose marriage equality on the grounds of religious freedom. It's not about the rights of same-sex couples to marry, it's about the religious right to discriminate against same-sex couples. In the case of school bullying, it's not about an LGBTQ students right to feel safe and unmolested, it's about a religious student's right to express their disapproval of the LGBTQ student through taunts, intimidation and yes, hate speech.
Laurie Higgins of the Illinois Family Institute has said about the Day of Silence in her state, "The means by which [GLSEN seeks] to end bullying is to eradicate conservative moral beliefs about homosexuality or to make it socially impossible to express them. That's what people need to understand. This isn't centrally about bullying."  Of course, Laurie Higgins is wrong: the Day of Silence is all about calling attention to the problem of bullying and raising awareness about the issue. (In the interest of full disclosure I should point out that Laurie Higgins protested a talk by my niece Jessica Ahlquist when she went to Illinois to talk at three High Schools there about being bullied as an atheist in the wake of the Cranston prayer banner decision.)
In our own backyard, MassResistance, the anti-LGBTQ hate group and founding member of the anti-marriage equality Faith Alliance has come out strong against the Day of Silence, even as they admit that "School districts in Massachusetts and other states have their spring school vacations this week" suggesting that those interested in getting angry about this issue "check with your school as soon as possible."
In concert with 34 groups, including the aforementioned Illinois Family Institute, MassResistance is suggesting to parents opposed to preventing the bullying of LGBTQ students to "Keep your kids home that day!"
When you have to work that hard at hating people, it almost seems not worth it.
The idea of twisting freedom of religion into the freedom to discriminate may seem compelling to the unreflective when it is about the right of photographers to discriminate against same-sex couples getting married or the right of pharmacists to deny women birth control if it violates their conscience, but it seriously breaks down when we talk about the rights of bullies to drive LGBTQ kids to suicide.
Suddenly the betrayal of logic that might seem peculiar, strange or even humorous becomes destructive and deadly to our children. It is well past the time that we call those who peddle such views on their bullshit and start understanding what religious liberty really is.
Help stop the bullying of LGBTQ students

,