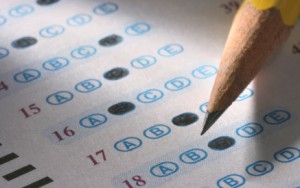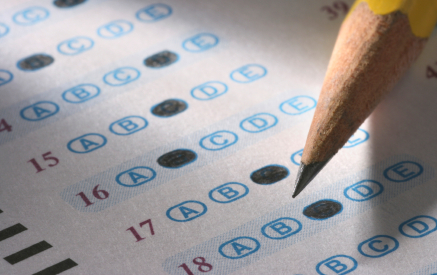 Last week friend of the blog, Dan McGowan at GoLocal, asked:
Everyone agree that "teaching to the test" is a bad idea, but it makes no sense to get rid of standardized tests that could determine whether a student is eligible to graduate… Why not continue to test, but also offer the right interventions that will help struggling students turn things around?
I'm not sure I've ever been more at odds with one of Dan's posts. What's got Dan upset is a proposal being offered by "not so hot" State Senators  Representative Eileen Naughton and State Senator Harold Metts.
The legislation, introduced by Rep. Eileen Naughton and Sen. Harold Metts, would prevent the use of statewide standardized test assessments as a barrier to graduation. Civil rights and advocacy groups have long been critical of the use of "high stakes testing," releasing statistics last year – and which have not improved since – that documented that approximately 90% or more of students classified as special education, limited English proficient, economically disadvantaged, Latino or African-American would receive either no diploma or one designating them only as "partially proficient" if high stakes testing had been in effect for the Class of 2011. [my emphasis]
So why not continue to test as McGowan proposes? Won't that help those kids? There are actually plenty of reasons, many perhaps more evident to someone like me, a parent of dyslexic children. What I ask is, why should my child's entire academic performance be judged by a single standardized test? At best it's unfair and inaccurate, and at worst for kids like mine these high-stakes tests can be a form of discrimination. Dyslexics are often granted accommodations like additional time or quiet rooms, but even with these it's hard to see how a dyslexic child's academic potential could be accurately gauged.
One of my favorite writers on the subject of education reform is Alfie Kohn, who specifically warns against proposals to link standardized testing to graduation:
Virtually all relevant experts and organizations condemn the practice of basing important decisions, such as graduation or promotion, on the results of a single test. The National Research Council takes this position, as do most other professional groups (such as the American Educational Research Association and the American Psychological Association), the generally pro-testing American Federation of Teachers, and even the companies that manufacture and sell the exams. Yet just such high-stakes testing is currently taking place, or scheduled to be introduced soon, in more than half the states.
It's small wonder the idea lacks support among professionals:  it's wrong on motivation and wrong on process improvement as noted by process improvement guru W. Edwards Deming, who should be required reading for those still captivated by the "hotness" of the current testing fad.
These forces [of destruction] cause humiliation, fear, self-defense, competition for gold star, high grade, high rating on the job. They lead anyone to play to win, not for fun. They crush out joy in learning, joy on the job, innovation. Extrinsic motivation (complete resignation to external pressures) gradually replaces intrinsic motivation, self-esteem, dignity.
It's certainly not what I want for my own children, and more over, using these tests as graduation requirements very likely harms the students we're supposedly trying to help the most, kids like those in my neighborhood which is represented by Senator Metts (District 6, Providence). Here's Kohn again:
Minority and low-income students are disproportionately affected by the incessant pressure on teachers to raise scores. But when high stakes are applied to the students themselves, there is little doubt about who is most likely to be denied diplomas as a consequence of failing an exit exam—or who will simply give up and drop out in anticipation of such an outcome. If states persist in making a student's fate rest on a single test, the likely result over the next few years will be nothing short of catastrophic. Unless we act to stop this, we will be facing a scenario that might be described without exaggeration as an educational ethnic cleansing.

Let's be charitable and assume that the ethnic aspect of this perfectly predictable consequence is unintentional. Still, it is hard to deny that high-stakes testing, even when the tests aren't norm-referenced, is ultimately about sorting. Someone unfamiliar with the relevant psychological research (and with reality) might insist that raising the bar will "motivate" more students to succeed. But perform the following thought experiment: Imagine that almost all the students in a given state met the standards and passed the tests. What would be the reaction from most politicians, businesspeople, and pundits? Would they now concede that our public schools are terrific—or would they take this result as prima facie evidence that the standards were too low and the tests were too easy? As Deborah Meier and others have observed, the phrase "high standards" by definition means standards that everyone won't be able to meet.

The tests are just the means by which this game is played. It is a game that a lot of kids—predominantly kids of color—simply cannot win. Invoking these very kids to justify a top-down, heavy-handed, corporate-style, test-driven version of school reform requires a stunning degree of audacity. To take the cause of equity seriously is to work for the elimination of tracking, for more equitable funding, and for the universal implementation of more sophisticated approaches to pedagogy (as opposed to heavily scripted direct-instruction programs). But standardized testing, while bad news across the board, is especially hurtful to students who need our help the most.
An audacious plan? Yes. But hot? Not so much, Dan.