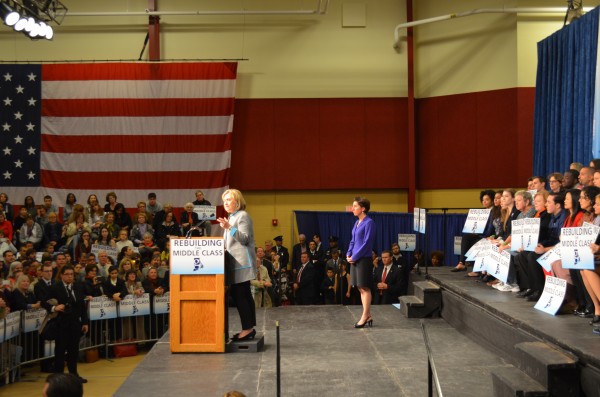 At a rally dubbed "Rebuilding the Middle Class," former Secretary of State Hillary Rodham Clinton endorsed Democratic candidates Gina Raimondo for governor and Seth Magaziner for general treasurer.
Clinton appeared Friday afternoon at the Rhode Island College Rec Center.
"Gina has a plan to put people to work, she knows how to do it, and has done it in the past," said the former first lady. "The future of Rhode Island's middle class depends on who is elected as your next governor, you have one of the best choices in the country."
"It's great to be back in Rhode Island," Clinton said. She smiled and added, " Rhode Island has been good to me and to my husband over the years, you've always stood with me." She also made reference to her many trips to Rhode Island when she spoke of friend and Democratic candidate for treasurer Seth Magaziner.
Prior to Clinton's 22-minute speech, Raimondo told the audience, "I will be the governor that turns the economy in Rhode Island around."
When introducing Clinton, Raimondo said, "She's done it all – although not everything, yet." The room exploded into cheers for Hillary. In her speech Raimondo committed to raising the minimum wage in Rhode Island to $10.10 an hour, and promoted her jobs plan.
Michael Sabitoni, president of the Rhode Island Building and Construction Trades Council, kicked off the rally. "We supported Gina in the primary, and we will support her as our next governor." The Rhode Island Building and Construction Trades Council is a union made up of 8,500 tradesman and women in Rhode Island.
Senator Jack Reed, who is running for reelection, introduced candidate Raimondo. He told the crowd that "If you work hard and play by the rules you should have a shot at the American dream." He said Raimondo was a proven leader and the best choice for Governor.
It is estimated that 1,100 people attended the rally to see Clinton. Before the event, a high dollar meet-and-greet with noted democratic donors took place, in support of Raimondo.