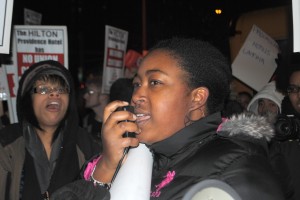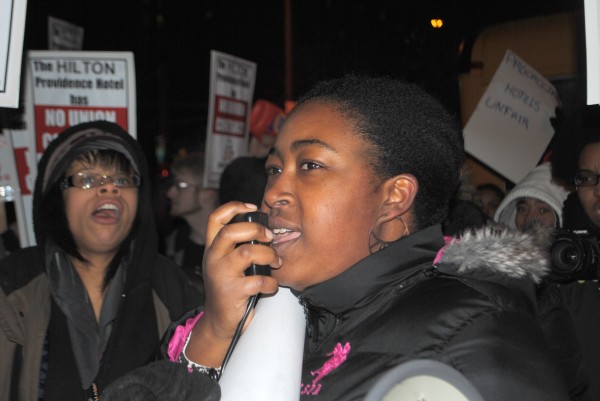 Adrienne Jones isn't the only one. According to a press release from Unite Here Local 217 two people have been fired from the Hilton Hotel in Providence for supporting an effort to form a union and several others disciplined. Nick Spino, who delivered room service, was the other.
"Since workers presenting management with their petition February 18th, management has terminated two public leaders for arbitrary reasons, suspended-pending-termination another, and issued arbitrary discipline to no less than seven workers at the forefront of the workers' campaign for better jobs," according to the release from Andrew Tillett-Saks.
The email said a follow-up action – a "'mock funeral for the United States Constitution' to bring light to the hotel's trampling of workers' freedom of speech" – involving "terminated workers, their co-workers, and other area hotel workers" is being organized.
Earlier this week, Steve Ahlquist reported that Adrienne Jones feels she was fired for supporting the effort to organize a union. Krystle Martin, a barrista at the Hilton Starbucks agrees.
"The company is firing many of us who they see as  leaders of the efforts to make these livable jobs," she said according to the press release. "We shouldn't be mistreated at work just because we want to have decent jobs. Bottom line, this is illegal but they think they're above the law."
Watch video and see pictures of the Feb. 18 action here.
Hilton employees say at least two have been fired for supporting union

,