When the decision came down Monday morning, I can't say I was surprised.
Burwell v Hobby Lobby is yet another example of the courts ruling in favor of a weird kind of corporatism, another step towards a legal landscape where legal fictions established to protect investors become imbued with rights that supercede those of ordinary persons.
Still, there was something especially galling about the wording of this decision, and though Justice Ginsberg's dissent nailed most of it, "We the People" are still stuck living in the world of the five old men who crafted the anti-science, anti-human, majority opinion that established a new class of citizens who are separate and unequal under the law: women.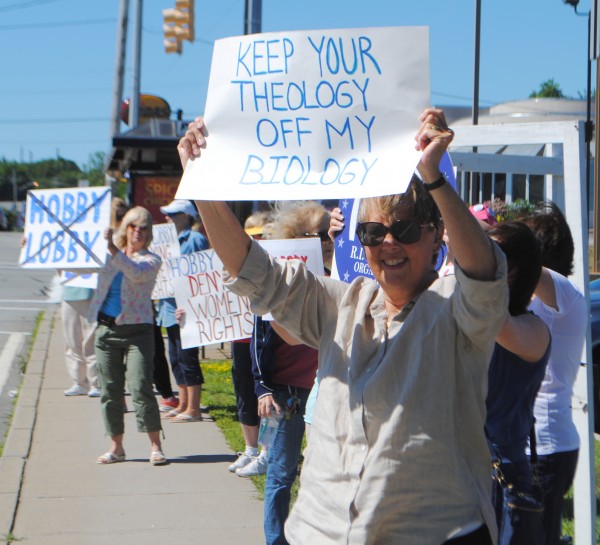 And lest you think not being a woman somehow protects you, lawyers are already moving to expand this decision in ways that might have us yearning for the simplicity of Sharia.
Why should Hobby Lobby, a store that sells glitter, glue-guns and craft paper, have more rights than my daughters? I knew I wasn't alone in my views. I needed to do something, but how does one go about appealing a Supreme Court decision? How does one go about letting the powers-that-be know that this decision cannot stand, and that something needs to be done?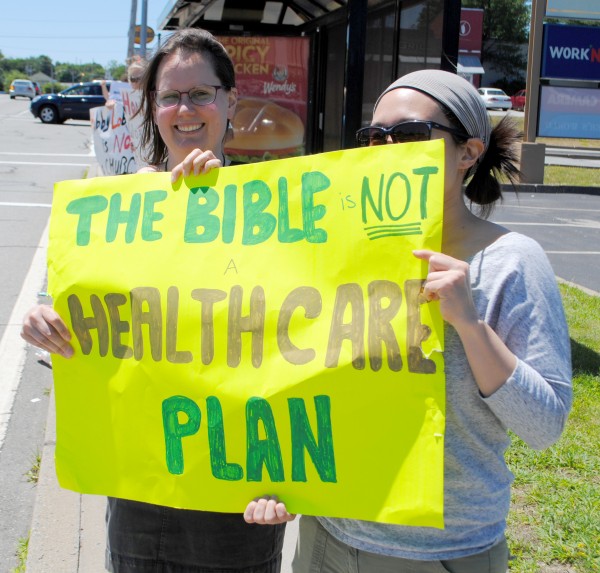 I decided to hold a rally outside the only Hobby Lobby location in Rhode Island and call for a national boycott of all Hobby Lobby stores. The rally had two purposes. The first was to send a message from Rhode Island, the birthplace of religious liberty and freedom of conscience so loud that even the Supreme Court would hear it. Our little rally, and similar rallies across the nation, (Oklahoma, DC, Alabama, California, Texas, Missouri, Illinois, Wisconsin…) would tell the government that we do not want laws that grant corporations control over its employees' private lives.
We want specific changes, like the repeal of RFRA, the Orwellian named Religious Freedom Restoration Act that was used as a justification for the Supreme Court decision. But more generally we want the right of women to make their own decisions regarding their health care, including decisions having to do with reproductive health care including abortion, to be protected and expanded, not attacked and restricted.
The other thing we want to do is boycott Hobby Lobby. We want to deprive this corporation of the money they use to hire the lawyers needed to attack our human rights. This is the "starve the beast" strategy. Without money, David Green, the multi-billionaire who thinks his vast fortune is a license to inflict his narrow Evangelical religious beliefs on the world is just another guy on a soapbox shouting at passers-by on a busy city sidewalk, entitled to his opinion but easily ignored.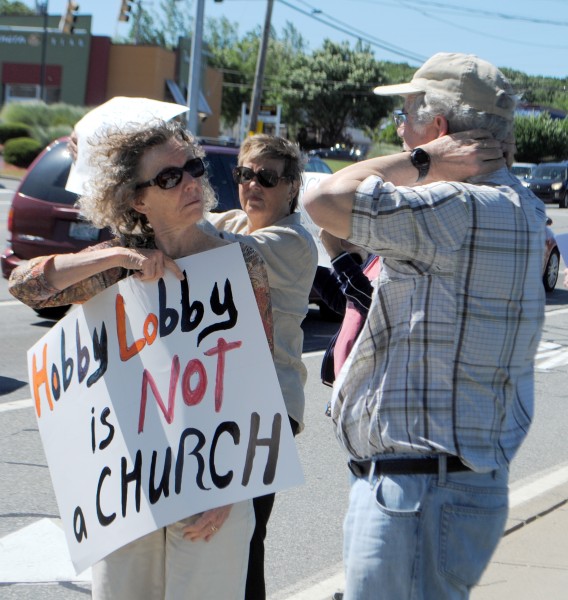 So at the rally we announced a permanent, never ending boycott against Hobby Lobby. The 125 people who came out to our protest Saturday afternoon and the hundreds more who support us are all committed to never spending so much as a penny at any Hobby Lobby, ever. Further, these women and men have friends, families and distant Facebook contacts across the nation and across the world. They will convince most everyone they know to follow their lead.
Our rally let people know they have a choice. Barely a minute went by without someone driving past in their car, tooting their horns in support. The coverage we received in the Providence Journal reached thousands on-line and in print. Channels 10 and 6 ran news reports, letting thousands more people know.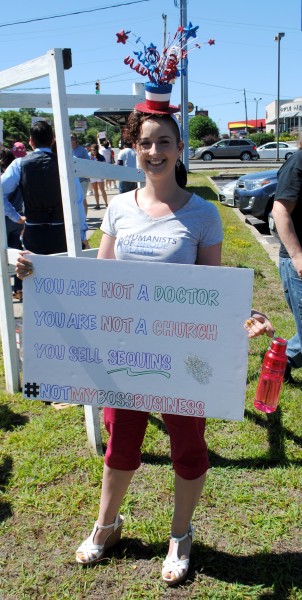 The accepted wisdom is that there is no bad publicity, except there is. Hobby Lobby is the corporation that led the way on this kind of lawsuit, and as a result, it will be the first to reap the economic consequences of its decision.
The Rally
The day itself was great. One day after Hurricane Arthur dampened our Independence Day plans we were presented with a warm windy day with near zero humidity. I arrived five minutes early, wondering if any of the 175 people who promised to be there would actually show up, aside from a few close friends. I need not have worried. As I arrived car doors opened and at least twenty people came out carrying signs, ready for a positive, peaceful protest. From their the event grew steadily, peaking at 125, with people coming and going throughout the day. Maybe 175 people participated in all.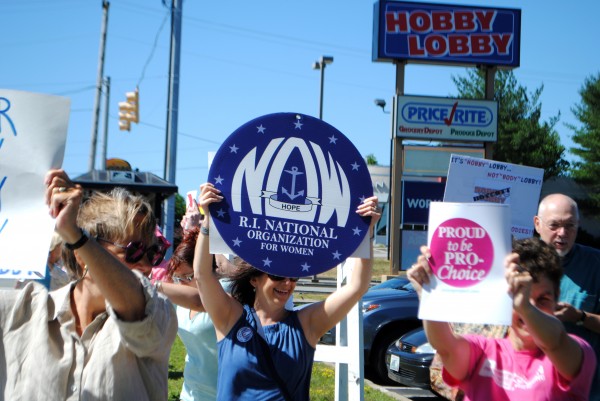 I had informed the Warwick Police Dept of our intentions, and their asks were well in line with our intentions: Don't block traffic and don't trespass on private property. Keep it peaceful and be careful. The police had a car parked nearby,  but this wasn't a lawless crowd. We had people on our line aged 13 to 83. Some of the women had fought for women's rights in the 1950s and 60s and were wondering why they were forced to fight the same old battles again, in the 21st Century. The only danger we presented was to Hobby Lobby's bottom line.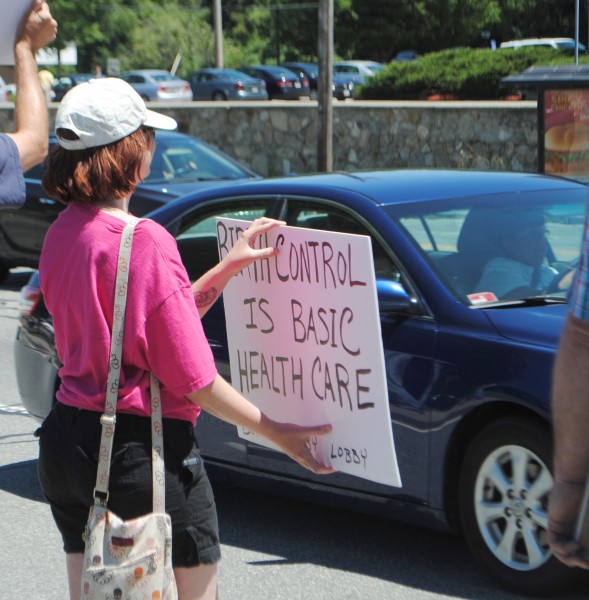 My friends from the Humanists of Rhode Island were in attendance, and stuff like this is never a solo effort. So many people contributed to putting this together. If I list all their names I'll leave someone out by accident, so I won't even try, but you all know you are great. Friends from other groups, especially Carolyn Mark or RI-NOW and Lauren Niedel of the RI Progressive Democrats were fantastic. Also, my friends from Unite Here! allowed me to borrow their bullhorn, which I will return soon, promise! I made new friends as well. Thank you Julie! And so many more.
A gathering this large in an election year brought out the candidates as well. Clay Pell, running for Governor, arrived with his wife, Michelle Kwan almost as soon as the protest got started. He listened to the concerns of the women and men present. Later, one of Pell's opponents for the Democratic Primary, Angel Taveras arrived, shaking hands and posing for photos. Brett Smiley, running for Mayor of Providence, came to Warwick because he "has always been a big supporter of women's rights" and candidate for Lt. Governor, Frank Ferri, arrived near the end of the protest to show his support.
The biggest surprise was the quick visit of Representative David Cicilline, whose office originally told me could not make the rally, but the Congressman drove by and decided to make a quick visit on his way to a family event. This allowed me to make my big ask, repeal RFRA, in person, and though Cicilline did not commit to introducing or signing onto such legislation, he did allow that something needed to be done.
Counter-Protesters?
From the beginning the event page on Facebook for this event was a target of trolls who somehow feel that the Supreme Court's decision was a positive thing. I received at least one warning that there would be counter-protesters arriving and also one threat that I had to report to the police in Providence and Warwick.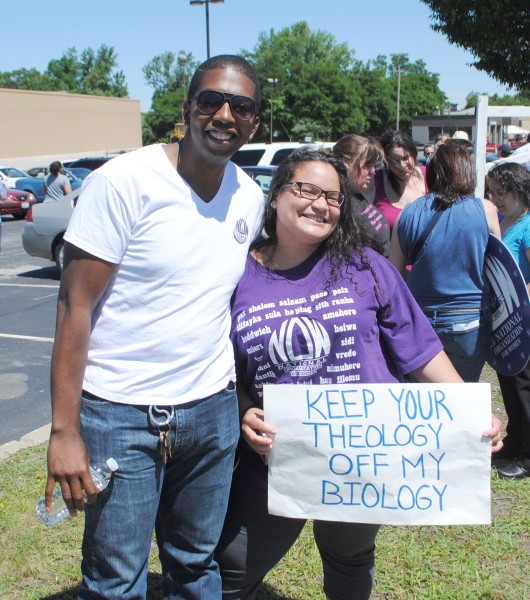 However, while we were underway, only about four people who disagreed with us showed up, and they engaged in forceful, if not always cogent debate with various members of the protest. Their complaints were mostly of the "abortion is against the will of God" kind which is a bit off topic. This is about religious freedom, not about one group's particular theology. I recognized two of the women as members of Barth Bracy's Right to Life group, and it was immediately obvious that they did not actually understand what the Supreme Court had decided. They simply wanted to argue about abortion.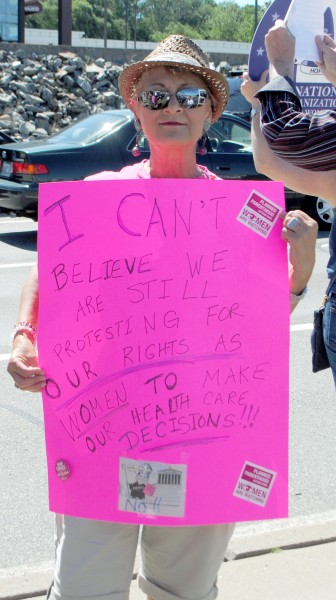 In all, the counter protest was a fizzle, if any such thing was actually in the works. And it's hard to see what a counter-protest would look like. Would these people be arguing for more corporate control over employee health-care decisions? Would they argue for less freedom, less autonomy and less human rights?
Outcomes
Hobby Lobby, obviously, is still in business. Our one-day protest did not bankrupt the beast. But our rally sent a message. I know they felt it in their day's receipts, and they will continue to feel it, even as competitors like Michael's and AC Moore reap the benefits. Our rally succeeded in getting our message out. We announced in no uncertain terms our intention to challenge corporate personhood and champion women's reproductive rights.
We won't win this in one day, one week or one month.
But we will win this.