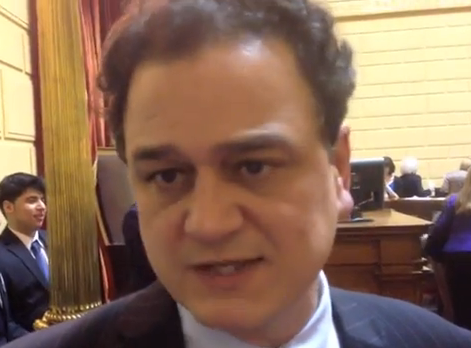 Last week I discussed Gordon Fox's guilty plea for bribery, fraud, and filing a false tax return with students in my introductory sociology class at the men's medium prison. Their reactions were immediate and articulate: one indignantly remarked that he himself had stolen a great deal less money than the former speaker, and yet was serving a longer prison term. Where, he wanted to know, was the justice in that?
"You might expect stealing from a guy like me," he said, baring his arms covered with tattoos. But Gordon Fox had an extra responsibility to behave ethically, as an elected representative who specifically undertook to safeguard the common good.
Much data has shown that rule of law applies differently to different groups of people. One need only read the New York Times' coverage of Ferguson, or Michelle Alexander's award-winning book, should one need convincing. While this is deplorable everywhere it occurs, my student's point was straightforward: that those who we elect to care for the collective should be held to a higher standard of behavior, not a lower one.
Rhode Island has been the laughingstock of the country for well over a century for our unwillingness confront political corruption. If there was any doubt as to the need for reinstating the state ethics commission's authority (famously dismantled in 2009), one might think such doubt would be assuaged by this most recent display of selfishness and disregard for Rhode Islanders, our tax dollars, and our intelligence.
We need more than Governor Raimondo's milquetoast pro-forma comment that, "the situation is unacceptable" or current Speaker Nicholas Mattiello's lackluster statement that he is "disappointed." We need meaningful action from our leadership. Revisiting the ethics commission would be a good start. A real campaign finance bill would also help. We need for everyday Rhode Islanders to do more than wring their hands and go back to work.
More than that though, our leadership must understand—not just claim to understand—that holding public office is a privilege. Like being a parent or a teacher, it means the onus is always on you to be the "good guy." You are never off the hook.
Former Speaker Fox should be punished to the fullest extent of the law. His behavior is an insult to all of us who work hard to make Rhode Island a good home and a good example.
Hold elected officials to a higher, not lower, standard

,