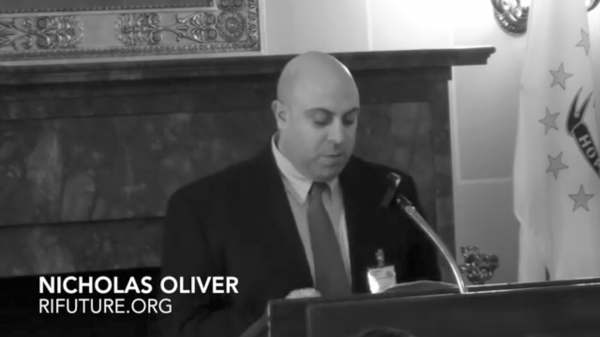 Since two-thirds of minimum wage earners are women, Governor Gina Raimondo says that raising the minimum wage to $10.10 is an important way to help women and their families in Rhode Island. But Nicholas Oliver, executive director of Rhode Island Partnership for Home Care, Inc., a group that advocates for the home health care industry here in Rhode Island, says that the governor is "being a bit disingenuous, and we've seen that her messaging is a bit inconsistent." More than 88 percent of home health care workers are women, and Raimondo's budget isn't helping them.
The governor is "saying that she wants to be an advocate for home care," continues Oliver in a phone conversation, "particularly with this working group Reinventing Medicaid, but frankly we haven't seen her put her money where her mouth is. She put into her budget proposal last month a freeze on home health care for another consecutive fiscal year."
In testimony before the Senate Labor Committee hearing on the $10.10 minimum wage, Oliver explained that "Medicaid home and community based service rates have been frozen for the past seven consecutive fiscal years. However, much of that last rate increase in 2008 was rescinded the following fiscal year due to state budget constraints. So what we're really talking about is 13 years since a rate increase…"
Medicaid reimbursements for home health care services are $17.68 an hour in Rhode Island. In addition to the worker's salary, that money has to cover insurance, licensing, utilities, compliance and other expenses. "Many of our direct care staff, CNAs and home makers are earning wages at or slightly above the minimum wage. At current reimbursement rates we cannot afford to provide them a wage that is adequate, let alone competitive to their counterparts in nursing homes and hospitals that have received increases by the General Assembly almost every year."
Medicaid reimbursements for similar services in Connecticut and Massachusetts are $24.40 and $24.64. "Why would someone work for minimum wage in a position that requires licensing by the Department of Health, continuing education to maintain that licensure, perform services that include toileting, bathing and feeding patients, at the same wage as someone working in retail or hospitality?" Oliver asked the Senate Committee, "The job market is responding with a resounding 'no' as many provider industries are having trouble hiring and maintaining direct care staff to fill the growing need for these services by Medicaid beneficiaries."
The problem in finding workers for the money available is especially acute outside Providence, in places like southern Rhode Island and Woonsocket. Many workers are simply crossing the border into neighboring states where the money is better.
"We don't want to oppose increasing the minimum wage," says Oliver, "We're really disappointed that the governor is proposing to increase the minimum wage and wants to be an advocate for minorities and women and single parents, but at the same time her message is inconsistent when it comes to health care because she's saying, 'Let's increase wages for these folks, but not you, even though you're a representative of the same work force I try to advocate for.'"
In her 2016 budget proposal, Governor Raimondo has suggested a 3 percent cut to nursing homes and a 5 percent cut to hospitals. The Reinventing Medicaid working group will issue its report and suggestions for additional cuts later this month. You can view Oliver's testimony before the Senate Labor Committee below:
Home care workers squeezed by inconsistent messaging/policy

,