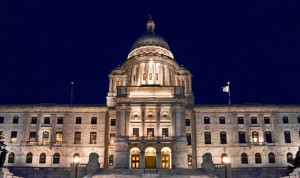 To applause from the gallery on both sides, the Homeless Bill of Rights passed out of the General Assembly and now heads to the Governor's desk for signing.
Officially titled the Rhode Island Fair Housing Practices Act, it was introduced in both chambers back in January. A revised version passed the Senate on May 2nd. But the House had shown little movement, and advocates feared it being "held for further study" meant that it would not be passed. However, on June 10th it was suddenly scheduled in the House Judiciary Committee for consideration, and a new revised version passed out of that committee on Tuesday, then being added to the House Calendar.
With zero debate, it passed 60-5. That version was then submitted to the Senate, where it was also passed, in a 33-2 vote.
The Homeless Bill of Rights acts to prevent discrimination against homeless people by various state and local agencies as well as employers and medical facilities.* According to advocates, if signed by Governor Lincoln Chafee, it would be the first of its kind in the nation.
The legislation was sponsored by retiring Senator John Tassoni in the Senate and freshman Representative Chris Blazejewski in the House.
UPDATE: Due to reader comments about the nature of these bills, it seems prudent to expand the original article.
What the Homeless Bill of Rights does is prevent harassment or discrimination towards homeless people. This means kicking people off of park benches or out of libraries when they're not doing anything wrong. It means that when someone applies for a job, the fact that their mailing address is listed as a shelter can't be used as a reason to reject them. It means that a homeless person can't have their stuff seized or searched if they're not causing trouble. Basically, if the Governor signs this, it's now a little bit easier for the homeless to enjoy all the little niceties of public life.
_________________________
Correction: An earlier version of this article stated "businesses" instead of "employers and medical facilities." Thank you to our keen readers for pointing this out.
Homeless Bill of Rights Passes General Assembly

,