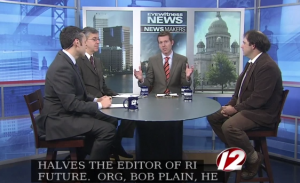 If any good came from my Thanksgiving weekend Homeless Like Me project, it might be that it focused some attention on the people without homes rather than homelessness as a social ill or what some call the homeless industrial complex.
Tim White hosted an excellent conversation about it on Newsmakers this weekend. (The segment on Homeless Like Me starts at 15 minutes in.)
WPRO did a news feature on Homeless Like Me last Friday morning. just a few hours after waking up on the State House lawn. You can listen to that here.
And Ian Donnis, RIPR's political reporter, wrote this about it:
RI Future's Bob Plain has emerged as Rhode Island's leading exemplar of gonzo journalism, and his recent 48 hours on the streets of Providence is case in point. Plain mixed contemporary technology with his unconventional approaches to tell a series of stories about being homeless in Rhode Island's capital.
Please check out RI Future's entire Homeless Like Me coverage here.
'Homeless Like Me' Project Catches Media's Attention

,