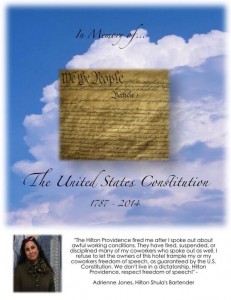 There's a bit of low-wage worker uprising happening here in Rhode Island.
Hilton Providence employees are holding an action to support their coworkers who were they say were fired for speaking out about the need for a labor union. A tweet from Unite Here 217 organizer Andrew Tillet-Saks called it a "Funeral for US Constitution to protest mass firings." On Monday, Steve Ahlquist interviewed Adrienne Jones, who said she was fired from the Hilton Providence for speaking out. On Tuesday it was learned two employees were fired for speaking out about the work conditions at the downtown Providence hotel and seven others were disciplined.
And on Tuesday, the Rhode Island fight for $15 an hour for fast food workers moves from a Wendy's in Warwick to a McDonald's in Providence, where activists (I'm not sure about workers yet) will protest in solidarity with the McDonalds workers in California, Michaigan and New York are suing the corporation saying they were "illegally underpaid employees by erasing hours from their timecards, not paying overtime and ordering them to work off the clock."
This from Rhode Island Jobs With Justice:
Fast-food workers have been at the forefront for economic justice. They've gone on strike, fighting for $15 and the right to form a union, fueling a national debate on income inequality and creating momentum to raise wages.

But in addition to not paying a decent wage, fast-food companies are making it even harder for their workers to afford even the basic necessities by stealing their wages. That's why fast-food workers are making their voices heard again.

Join fast food workers from RI and community allies on TUESDAY, MARCH 18th, at 12:30, at the McDonald's at 343 Broad St. in Providence, as we stand in solidarity with workers across the country who filed a national law-suit against wage theft at McDonald's!