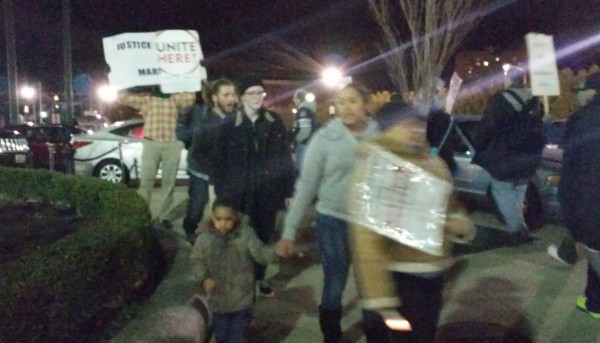 As Mayor Angel Taveras and Mayor-elect Jorge Elorza enjoyed a celebration of "the great city of Providence and what it has to offer" at the the neighboring Veterans Memorial Auditorium with entertainment by Ravi Shavi and The 'Mericans and catered by hip food trucks last night,  more than 50 protesters marched and chanted outside the Providence Renaissance Hotel for hotel worker Marino Cruz.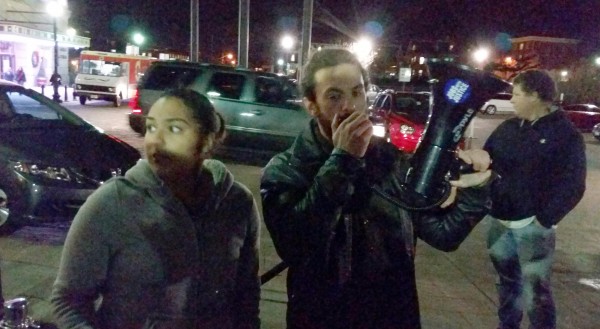 Marino Cruz was fired by the management of the Providence Renaissance Hotel last week, and in the process, had a minor heart attack. While recovering in the hospital, management had a restraining order delivered to him. Cruz maintains that the reasons management gave for dismissing him are trumped up and that the hotel management really wants him out of the way because of his efforts to unionize the hotel and his outspoken criticism of the racist way in which the hotel treats its employees.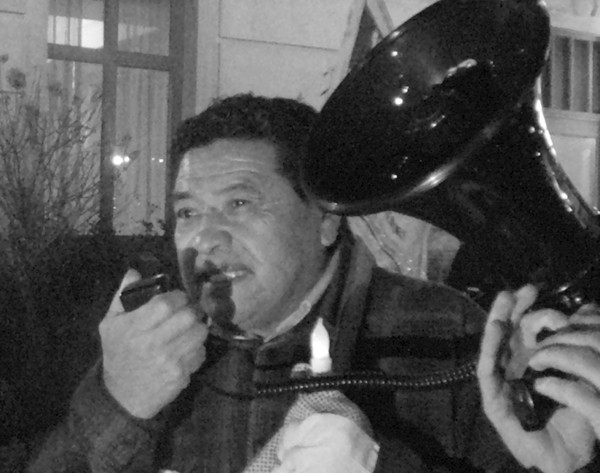 The protesters were not just demanding Cruz' reinstatement, they were there to demand fair wages, decent working conditions and plain old human decency on the part of The Procaccianti Group, the management company responsible for many hotels in Rhode Island and throughout the world.
Toward the end of the protest, things got heated as the protesters contended the seemingly arbitrary line between public sidewalk and hotel property. Nearly a dozen Providence police officers, with private hotel security hanging back, clashed with protesters in sometimes heated, but ultimately non-violent confrontations.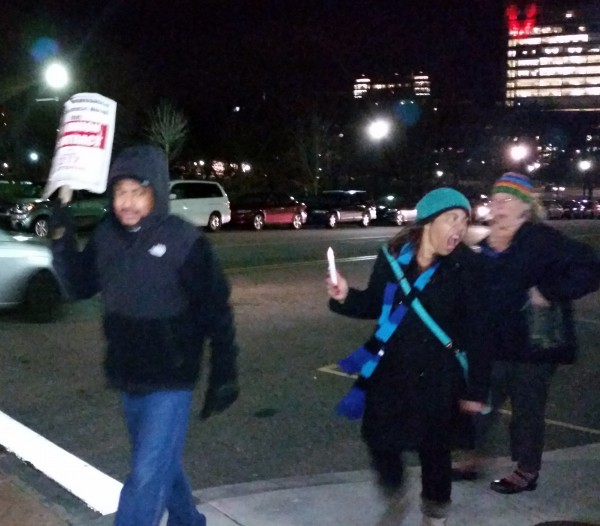 Providence City Councilperson Carmen Castillo was marching with the protesters. Castillo is a fierce advocate for worker's rights, having helped to organize a union at the Westin Hotel around 15 years ago. When she attempted to enter the hotel lobby, a police officer physically prevented her entrance by grabbing her arm and threatened with arrest. As can be seen and heard in the video, Castillo was not very pleased by this. In the next video we hear Castillo addressing the protesters.
Andrew Tillet-Saks, an organizer with Unite Here, explains to the assembled protesters the reasons for the rally outside the Renaissance in this video.
Speakers at the protest included Marino Cruz' daughter, Jennifer, and his wife, Raquel, who also works as a housekeeper at the Renaissance.
Also on hand was Adrienne Jones, who shared the news that the National Labor Review Board (NLRB) found in her favor when it ruled that the Providence Hilton fired her because she was trying to start a union, not for any deficiencies in her work.
Juan Garcia, one of the strongest voices in the immigrant organizing community, spoke about the unfair and racist treatment of Hispanics by The Procaccianti Group. Garcia spoke in Spanish, but I have added the on-the-spot translation provided by Unite Here's Andrew Tillet-Saks.
The last video features Juice Kelley, with an impassioned message for all workers.
Hell yeah!
---
---
There was no other press at this event.
Support Steve Ahlquist!
Hotel workers stage Marino Cruz protest at the Renaissance

,