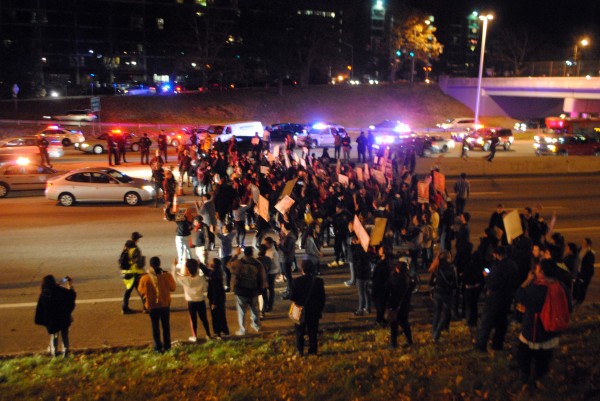 The House Judiciary Committee this week is scheduled to consider two bills that target the Black Lives Matter activists' tactic of shutting down highways. Both bills are slated to be heard Wednesday afternoon at the State House.
Felony version
One of the bills (H5 192) is a House version of the controversial legislation Coventry Sen. Lou Raptakis, a Democrat, submitted in the Senate that was met with heated a criticism from racial and economic justice activist who said it was an insult to the legacy of Martin Luther King (a version of this RI Future post was used on the ProJo op/ed page today) as well as defenders of civil liberties and the homeless, who warned of unintended consequences.
This bill would elevate the punishment for interfering with highway traffic during a protest from disorderly conduct, a misdemeanor punishable by "not more than six (6) months" in jail, to a felony  that "upon conviction" would mandate "a term of imprisonment of not less than one year nor more than three (3) years at the adult correctional institution." It would create a new crime called "Unlawful interference with traffic" that would apply to "any federal or state highway."
Delaying an emergency vehicle that results in a death would carry a sentence of five to 30 years in prison.
The lead sponsor is Rep. Ray Hull, a Providence police officer who is also Black and a Democrat. It's co-signed by Republican Mike Chippendale, Foster, and Democrats Cale Kaeble, Burrillville, Pat Serpa, West Warwick, and Stephen Casey, of Woonsocket.
Misdemeanor version
The other bill (H5 193) would keep the crime a misdemeanor, but it would still increase the punishment from up to six months in jail to "not more than one year " in jail. Its prime sponsor is Re. Dennis Canario, who represents Portsmouth and Tiverton, and is also co-signed by Hull, Rep. John Edwards, of Tiverton, Rep Joe Almeida, of Providence and Rep. Joe Sherkachi, of Warwick, all Democrats.
It's punishment may be less Draconian, but it may apply to more roads in Rhode Island that the other bill. H5 193 says:
"For the purposes of this section, 'freeway' means a way especially designed for through traffic over which abutters have no easement or right of light, air, or access by reason of the fact that their property abuts upon the way, and shall include, without limitation, all roads designated as part of the interstate highway system."
H5 192 refers only to "federal or state highways." This would seem to exempt town roads while the previous language seems to include all roads in the state.
House Judiciary considers highway blocking bills Wednesday

,