When Representative Robert Lancia (R District 16, Cranston) announced that he was hosting the first House National Prayer Breakfast on the floor of the House and thanked Speaker Nicholas Mattiello for his support in making it happen, I knew I had to attend.
Prayer and religion are very important to many Americans and their elected representatives, but our country and Rhode Island in particular was founded on a secular vision of governance that allows each person to bring their convictions to the discussion, but not impose those convictions on anyone else. An official House of Representatives sponsored event blurs the lines between church and state, even when the event being held strives mightily to be "interfaith," inclusive and welcoming to all.
Lancia said that he sees the prayer breakfast as an opportunity to network, a chance to bring together the political and religious community. He hopes this will be the first of many such events.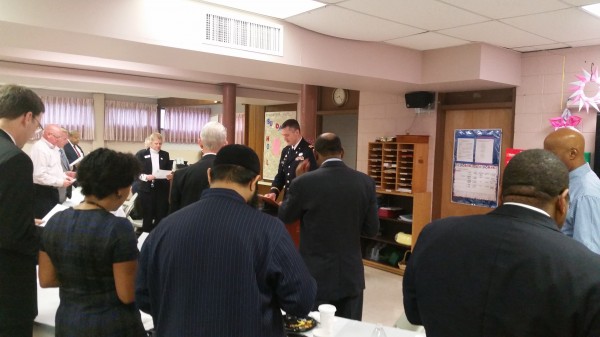 Guest speaker Bishop Nicholas Knisely of the Episcopal Diocese of Rhode Island concurred with Lancia. He also hopes that this event might be the first of a series of such breakfasts, a chance to bring legislators together not as government officials, "but as people who have a commitment to a spiritual life." Such connections, said Knisely, "maybe cannot be made in any other way."
Yet I was there when business leaders directly petitioned government leaders in January at the  2016 Rhode Island Small Business Economic Summit held at Bryant University, and I was at the Convention Center the day before the prayer breakfast, with Rep Lancia and dozens of other legislators at the Greater Providence Chamber of Commerce luncheon.  This year's legislative agenda was shaped by these events where the business community told the legislature what it expects to happen this year.
I was at the State House when the Rhode Island Interfaith Coalition to Reduce Poverty presented their legislative ideas to Governor Gina Raimondo, Speaker Mattiello and Senate President Teresa Paiva-Weed. The fact that the business community will get most of what they ask for and that the religious community will not tells us a lot about the way religion is used by our government, and why we should be wary of mixing church and state.
This year I have watched every session of the House and Senate and every session begins with a prayer. So far this year the legislature has prayed for nearly 15 minutes, loudly and publicly, even as they largely ignore the ideas of the Interfaith Poverty Coalition when drafting and passing their legislation.
At one point during his prayer breakfast talk Bishop Knisely pointed out that the Pilgrims left England to get away from the religious tradition he represents. (And I'll note here that Roger Williams founded Rhode Island to get away from the Pilgrims, who were no better in respecting religious differences.) Knisely talked about the ways in which "religious and language differences were used by the mill owners [of New England] to make sure mill workers did not organize." This is the danger of religion and state becoming too close: spirituality becomes a weapon against the underclass.
When religion is used to provide a sheen of morality to the exploits of government officials and business leaders, people do not prosper, they are instead righteously exploited. The prayers that begin each legislative session may mean something to the legislators bowing their heads, but the deeper purpose is propagandist. They are invoking the name of God to justify their power, not the will of the people, and doing so in defiance of democracy.
To those who value their religion, the prayer breakfast may seem like an innocuous idea, but to those who do not pray, or to those who find little of value in the ideas of faith, spirituality and God, these events are exclusionary and even a little frightening.
I don't want my government engaged in prayer, and really, no religious person should want that either. Every religious tradition has multiple stories of being persecuted by governments under the sway of a rival religion. Today we might be praying to the Gods and enacting the religious codes you believe in, but tomorrow may bring strange Gods that don't have your best interests in mind.
Best to keep church and state separate.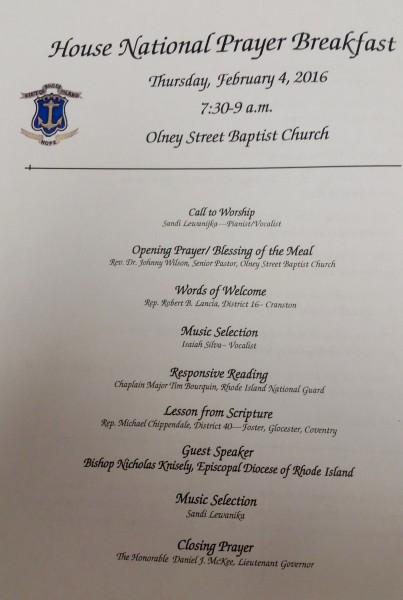 House Prayer Breakfast well intentioned, but dangerous

,