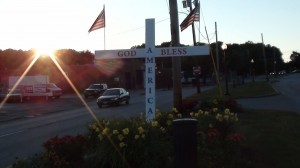 Ted Nesi recently wrote a blog post in which he compared data from a series of studies dealing with the issue of just how Catholic the State of Rhode Island actually is.  First drawing attention to the Center for Applied Research in the Apostolates (CARA) that places the Catholic "baptisms-to-birth ratio" at 34%, the third highest in the country,  Nesi then jumps to two older studies from 2008 and 2010 respectively.
First up is Trinity College's Institute for the Study of Secularism in Society and Culture's five year old study that showed those identifying as Catholic in our state dropping from 62% in 1990 to 46% in 2008 and those identifying as having no religion rising from 6% to 19% over the same period.  The other study is the 2010 census by the Association of Statisticians of American Religious Bodies which declared Massachusetts the most Catholic state, pulling slightly ahead of Rhode Island.
Nesi's main point, that the Catholic Church continues to be dominant "throughout the Northeast" and that Rhode Island will likely remain one of the most heavily Catholic states "if a new generation of baptized babies stay among the faithful when they grow up" is true, but his analysis ignores important facts about the sociology of religion.
The Pew Forum on Religion & Public Life reports that 28% of American adults "have left the faith in which they were raised in favor of another religion – or no religion at all."  Furthermore, according to the Pew Forum, "While nearly one-in-three Americans (31%) were raised in the Catholic faith, today fewer than one-in-four (24%) describe themselves as Catholic. These losses would have been even more pronounced were it not for the offsetting impact of immigration."
The CARA blog that Nesi links to in his piece  points to trends that are shrinking the Catholic Church in the United States. Trends are pointing away from Nesi's rosy conjecture that baptized babies might "stay among the faithful."
The CARA blog continues, "…in the 1973 General Social Survey (GSS) it is estimated that 88% of Americans raised Catholic remained as such as adults. In 2007, a major study by the Pew Forum on Religion and Public Life estimated that this had fallen to 68%." If these trends continue, "retention could fall to about 55% when those born in 2011 come of age in 2029."
Though the polls arrive at various figures about Rhode islanders who identify as Catholics, these polls say little about how Catholic these respondents are. What I mean is that though the Catholic Church and Catholic hierarchy dictate religious and political beliefs to its adherents, especially about social issues like marriage equality and reproductive rights including abortion, actual Catholics have very different takes on these issues.
A 2013 Quinnipiac University Poll showed that 54% of Catholics support marriage equality.  "Catholic voters are leading American voters toward support for same-sex marriage," said Peter A. Brown, assistant director of the Quinnipiac University Polling Institute. Rhode Islanders United for Marriage recently announced that their coalition now includes a contingent of supporters who identify as Catholic.
On the reproductive freedom front we find Catholics for Choice.  The lobbyist for the Providence Diocese, Bernard Healy, might not allow that members of this organization are Catholics in good standing, but members of this group certainly identify as Catholics when asked by pollsters, and the views of this organization seem more typical of Catholics than those held by the Bishops. A 2011 Guttmacher Institute report found that 98% of American women use birth control that is outlawed under Catholic doctrine.
So though the Catholic Church may well be a major presence in Rhode Island for the foreseeable future, it seems that its future is one of ever diminishing influence and importance
More recently, Nesi put out another piece highlighting data found in the recent Gallup Poll that shows Providence being one of the least religious cities in the United States. This data is in line with the general polling trends I explored above, and should not be seen as contradictory. What we are seeing, I believe, is strong evidence of a kind of "Cultural Catholicism" divorced from the strong stances taken by the leadership of the Catholic hierarchy. A piece by Gary Gutting in the New York Times reflects thinking typical of American Catholics, I believe.
Speaking of his position as a Catholic who holds liberal and non-Catholic views on issues like marriage equality and reproductive rights, but still considers himself a practicing Catholic in good standing, Gutting says, "…the liberal drive for reform is the best hope of saving the Church.  Its greatest present danger is precisely the loss of the members whom the hierarchy and the rest of the conservative core want to marginalize.  I'm not willing to abandon the Church to them."
That, and the simple desire to continue the life transition marking ceremonies and traditions of the family- events like baptism, first communion, confirmation and marriage- are the factors that allow for people to identify as what basically amounts to being Catholic-in-name-only.
How Religious Is RI?

,