There are several differences between the public library in Barrington and the one in Central Falls.
The Barrington library has more than 129,000 print items on its shelves and lent out 384,257 materials last year. The Central Falls library has about 34,000 print items on the shelves and lent out 14,994 materials last year. Barrington's library is open seven days a week, and Monday through Thursday it's open for 12 hours a day – 9 am to 9pm. Central Falls' library is open six days a week; five hours a day on Saturdays and seven on weekdays. Barrington's library employs 45 people, 15 of them full time, and Central Falls employs two full time and two part time people. The Barrington library's annual budget is just over $1.5 million and the Central Falls library's budget is $165,000.
Another difference is the amount each will get in state aid this year. Governor Chafee's proposed budget would give $341,488 to Barrington and $17,569 to Central Falls. That's because state library aid is appropriated based on a library's budget rather than its need.
Here's the law: "For each city or town, the state's share to support local public library services shall be equal to at least twenty-five percent (25%) of both the amount appropriated and expended in the second preceding fiscal year by the city or town from local tax revenues and funds from the public library's private endowment that supplement the municipal appropriation."
As such, state taxpayers generally send more dollars per resident to suburban libraries than to urban libraries.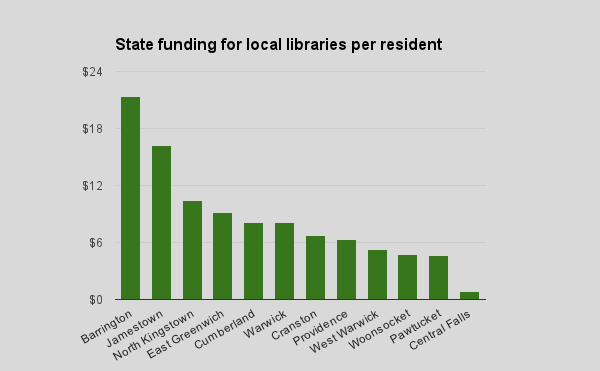 Deborah Barchi, director of the Barrington library and a past president of the Ocean State Libraries consortium, thinks the state funding formula for local libraries is fair.
"Each town makes those decisions based on what they value," she said. "No matter what metric you use, there would be somebody who would feel they weren't getting enough money."
But Steve Larrick, the president of the Central Falls Public Library Board, disagrees.
"We think the state needs to play a role in our urban libraries," he said. Rhode Island "needs to do a better job of thinking about these social determinants."
Larrick, who is also the town planning director in Central Falls, explained what he meant about social determinants.
"Barrington doesn't need a library to have access to tremendous resources," he said. "They have great access to broadband in their homes, and their schools are top notch. Their school library is probably better than our public library. A dollar spent there will not be as meaningful as a dollar spent on the Central Falls library."
Central Falls almost lost its library when the city filed for bankruptcy two years ago. Receiver Bob Flanders closed the library and a grassroots community effort aided by New York Times coverage and a $10,000 donation from Alec Baldwin, kept the doors open. But operating expenses were decimated, and because the funding formula uses budget numbers from two years ago it is hitting them in state funding this year.
"For this year and next year, the average is really down because of the bankruptcy," Larrick said.
I asked Governor Chafee to comment on the disparity in funding between the Barrington and Central Falls libraries. Spokeswoman Faye Zuckerman sent this:
"As Governor, a former mayor and city councilor, Governor Chafee has been an advocate for Rhode Island's cities and towns. Throughout his years in office, he has been working to reverse the damage done by the past administration to municipalities and the Rhode Island property taxpayer."