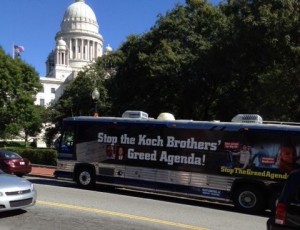 Rhode Island progressives Kate Brock of Ocean State Action and Pat Crowley of the NEA-RI join forces with the Stop the Greed agenda to call attention to how the uber-wealthy Koch Brothers are conspiring against Rhode Island.
According to a press release from Patriot Majority, the Koch Brothers' right-wing agenda would hurt the Ocean State by "cutting Pell Grants by over $800 for every RI student, privatizing Social Security for RI's 200,000-plus recipients, and take away health insurance of over 40K who would get it under Obamacare."
Patriot Majority's "Stop the Greed" bus – which is touring the eastern part of the country and will meet up near St. Louis with its western-states counterpart in about a month – will be at Kennedy Plaza today at 3:30.
Here's the full press release:
On Monday, September 24, 2012, at 3:30 pm EDT, Providence concerned citizens will call out the billionaire Koch Brothers who have threatened to spend $400 million this year on a "greed agenda" that will weaken America. The Koch Brothers have advocated for more tax breaks for mega-billionaires like themselves, while cutting needed protections and programs for middle class Americans.

Community leaders including Kate Brock, Executive Director of Ocean State Action, and Patrick Crowley, of National Education Association Rhode Island, will gather at Kennedy Plaza to argue that the Kochs' Greed Agenda has been destructive to the Rhode Island middle class.

The news conference is part of a national initiative that Patriot Majority USA launched in August. In September, the group expanded its presence with a paid ad campaign in states, and with a national bus tour—complete with more than 30 stops in 23 states.  More information about the campaign can be found at www.stopthegreedagenda.com.

Patriot Majority USA has a multi-year bipartisan primary purpose, and is working on economic solutions and encouraging job creation throughout the United States. Patriot Majority USA's future legislative advocacy, in 2013 and beyond, at both at the national and state levels, is based on the goals of the Patriot Majority Action Plan. See more at http://www.patriotmajority.org.  

In Providence, Kate Brock, Patrick Crowley and others will speak as part of a national bus tour called "Stop the Greed Agenda," a project of Patriot Majority USA.
How the Koch Brothers Would Hurt Rhode Island

,