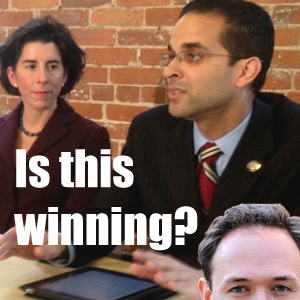 In yet another display of the left's fractious pettiness, those least likely to support Gina Raimondo ensured her primary success. Put another way, in yet another display of political ambition gone wrong, Angel Taveras lost the governor's race the moment he cashiered the progressive team that put him in City Hall in favor of cigar chomping suits.
Whichever way you view this debacle, one thing was always clear: Clay Pell could never win. But winning was never the point with Pell. Pell's political raison d'être was to ensure a Taveras loss. (And please, Pellies, just don't even…)
So let me put this on the record. Your Frymaster will tolerate absolutely ZERO whining about the wretchedness that will characterize the Raimondo administration. My response will be uniform and unyielding:
"Blame yourself!"
This game is called "politics"
I get it, Lefty. Progressives championed Taveras, but Taveras never really championed progressives. And ultimately, he turned on us to go with political insiders. Yeah, it stung. Yeah, it stunk.
But guess what…it's politics. And in politics, your friends are the people who stab you in the front.
Taveras's early appointments showed that he had little stomach for controversy or radical new ideas. I mean, have you met Mike D'Amico? Given the city's fiscal situation in January 2011, a "steady-on" approach may not have been the worst decision.
So there's nothing new in the notion that Taveras is not the most progressive politician in RI. What's news is the idea that Gina Raimondo is a progressive. Her primary messaging made liberal use of the word, so to say, almost certainly because it's completely untrue. Now that she's won the nod, we can expect her to lurch sharply to the right, where she's more comfortable. And in office, she'll be free to go full venture capitalist all over what's left of our economy.
It didn't have to be this way. Taveras plus Pell would have CRUSHED Raimondo and eliminated her from state government as a bonus.
Except, reality. To have prevented a Raimondo administration, Lefty would have had to take the whack Taveras dealt and still accept the idea that he would be a better governor than Raimondo.
But that's not how Lefty plays it. Lefty needs purity. Lefty holds grudges. And Lefty definitely can't take a punch.
So, Lefty…do you have your ticket to the inauguration yet?