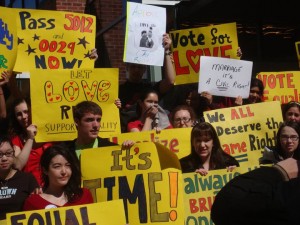 Marriage equality advocates took lot of hope from April 8th's front page ProJo article in which Senate President M. Teresa Paiva Weed anticipated "a full Senate vote on whether to legalize same-sex marriage by the end of April."  Good news indeed, but one needs to continue reading for the unpleasant bit.
Paiva Weed is concerned that the bill's religious exemptions may be inadequate, and would like to see more comprehensive exemptions. But if marriage equality is the goal, and so-called conscience clauses allow same-sex couples to be discriminated against by wedding photographers, bakeries, flower shops and rental halls, then in what sense will gay marriage be equal?
A sense can be formed of Paiva Weed's thoughts on this issue. The ProJo reports that Paiva Weed feels that one of the "better explanations" she's read regarding exemptions was an op-ed piece by Robin Fretwell Wilson, a Washington & Lee University law professor. Fretwell Wilson criticized the Rhode Island House bill for providing only "fake protections," arguing that "religious liberty and same-sex marriage share an inseparable fate."
Reading Fretwell Wilson's piece one might come to the conclusion that the marriage equality legislation under consideration does nothing to protect organized religion. Fretwell Wilson completely ignores the fact that Rhode Island has a robust set of laws already on the books that provide some of the strongest religious liberty and conscience protections in the United States.
Janson Woo, and attorney with GLAD, Gay and Lesbian Advocates and Defenders, in his testimony before the Senate, explained that "Senate Bill 38 and current Rhode Island Law provide broader exemptions for religious organizations than any other state in this country that allows gay couples to marry." How is this possible? "Current Rhode Island law already has a complete exemption for religious organizations in our sexual orientation and discrimination law."
Woo continued, "That is an incredibly broad exemption. It is one of the broadest in our country, and even if that were not ample or broad enough for the protection of religious organizations and the protection of religious liberty, Rhode Island also has the Religious Freedom and Restoration Act, or RFRA, which provides additional protections and greater protections than the Federal Constitution [for religious freedoms]."
So why would Fretwell Wilson, who certainly seems to know a thing or two about the law, mis-characterize both the Senate bill and Rhode Island's long standing commitment to conscience and religious freedom? Perhaps it is because she is part of the "mainstream academic presence" aligned with "Becket Fund for Religious Liberty, a public interest law firm based in Washington, D.C., and the United States Conference of Catholic Bishops (USCCB)."
A March, 2013 report entitled "Redefining Religious Liberty: The Covert Campaign Against Civil Rights" by Jay Michaelson for the Political Research Associates describes "A highly active, well-funded network of conservative Roman Catholic intellectuals and evangelicals" that "are waging a vigorous challenge to LGBTQ and reproductive rights by charging that both threaten their right-wing definition of "religious liberty."
The report is comprehensive, well-sourced, and names names. It specifically identifies Robin Fretwell Wilson as being part of a "regular consortium" of scholars who "make highly conservative political arguments, send letters to state legislators, and take direct roles in the drafting of legislation. These academics may well believe that religious liberty is threatened, but their work has been enlisted by a mass movement of seeking to end access to reproductive health care and restrict the civil rights of sexual and gender minorities." (emphasis mine)
Paiva Weed may also truly believe that she is advocating for religious liberty when she buys into the arguments of the religious right, but she is mistaken. These new calls for "religious liberty" are really calls for the right to discriminate based on gender identity and sexual preference.
In yesterday's ProJo Bernard Healey, chief lobbyist for the Providence Catholic Diocese, regurgitated these fallacious arguments in an attempt to twist the meaning of religious liberty into its exact opposite.
Schools, health-care facilities and a hospital that are operated by the diocese and "employ thousands of people" would be subject to new rules, some of which violate the diocese's long-held beliefs, he said. [Healey] pointed to a case in New York, which approved same-sex marriage in 2011, in which a lesbian employee of a Catholic hospital is suing for family benefits.

"If you look in the civil code of Rhode Island, how many times is marriage listed," Healey said. "It's not just in the marriage section, it's in business law, it's in rental law, it's in employment law, it's everywhere. … If that bill that passed in the House is put into law, we would be subject to all types of harassments, lawsuits, litigations."
Healey makes the extraordinary claim that denying lesbian employees of Catholic hospitals family health benefits is "a long held religious belief." Healey further claims that his right to discriminate against certain families is being threatened by the marriage equality law. Healey wants the right to open a business, and then discriminate against those his religion deems unworthy of his goods and services. In Healey's case, this means that LGBTQ citizens need not apply, but other religions might have other ideas, and if their religion demanded different forms of discrimination, the exemptions to the law Healey demands should apply to them as well.
Judge Leon Bazile, in ruling on the Loving v. Virginia case, wrote, "Almighty God created the races white, black, yellow, malay and red, and he placed them on different continents… The fact that He separated the races shows that He did not intend for the races to mix." Surely this is a "long held religious belief" and under Healey's logic should be protected by law. Why should we favor Healey's desire to discriminate over Bazile's?
Are not both views equally obscene?
As Michaelson explains:
…there should be no mistake: the Right's "religious liberty" campaign is a key front in the broader culture war designed to fight the same social battles on new-sounding terms, and is part of a movement with old roots in Christian Dominionism (a form of theocracy) and ties to conservative Catholics who launched the antichoice movement. Its deliberate inversion of victim-oppressor dynamic has led to limits on women's and LGBTQ people's real freedoms in the name of defending chimerical ones. Proponents may sincerely believe that they are defending religious freedom, but the campaign's endgame is a "Christian nation" defined in exclusively conservative terms.

And it is thus far inadequately opposed.
How the right pushes for exemptions to equality

,