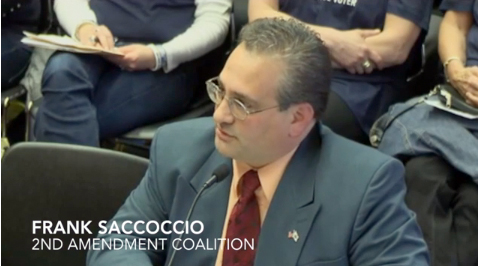 When testifying before the House Judiciary Committee on bills that would bring state law in line with federal law and close the loophole allowing misdemeanor domestic abusers to keep their guns, Frank Saccoccio, representing the Rhode Island 2nd Amendment Coalition, insisted that he was in no way defending domestic abusers. It's surely not his intent to defend domestic abusers, but that is exactly what Saccoccio is doing.
Time and again Saccoccio made statements that were refuted by Rachel Orsinger, representing the Rhode Island Coalition Against Domestic Violence and Julia Wyman, representing the Rhode Island Coalition Against Gun Violence (RICAGV).
Saccoccio claims that the bill before the committee is the same as the bill presented last year. The bill did not pass and Saccoccio implied that though his organization was willing to help make some changes to the bill's language that would allow the bill to pass, no one asked for the 2nd Amendment Coalition's opinion. "We haven't seen this bill until it was brought forward now," he said.
This seems contrary to the statement by Rachel Orsinger, who thanked the Committee Chairman Cale Keable, the 2nd Amendment Coalition, the RICAGV, various law enforcement people, the Attorney General and the Public Defender's office who "sat in very hot, very long meetings last year to come up with the language" in the bill, "That everyone could agree to, at least last year."
Julia Wyman also remembered the "roundtable discussion last year, and all the major stakeholders were involved… including… two members of the 2nd Amendment group…" Wyman found it "rather incredulous" that the 2nd Amendment Coalition cannot support a bill they helped to craft.
Perhaps it's Saccoccio's strategy to obfuscate the issue. Time and again he prefaced his statements with some variation of, "Those of you who are lawyers will understand," as if those in the room who are not lawyers will never be able to get their heads around the complex legal definitions of misdemeanors and petty misdemeanors. Fortunately, Rachel Orsinger was able to clear up the confusion Saccoccio sowed.
"I know there's been some confusion around petty misdemeanors and misdemeanors," said Orsinger, "those are two separate legal categories, just like book worms and worms are not the same thing, just because they have one of the same words in there."
Lawyers in the room who work in family court, said Saccoccio, know that family court judges are "very very liberal" and likely to "err on the side of caution" when issuing protective orders. But, that's the way the system is designed, pointed out Orsinger, once again cutting through the fog of Saccoccio's words. It's only after a judge makes a final decision that a permanent firearm restriction is put in place.
"Even if there's no nexus to a firearm," an indignant Saccoccio said, even if "there's no allegation that a firearm was ever used," a domestic abuser might lose his guns under this law.
"If someone is routinely showing that they have power and control over ending your life," countered Orsinger, "knowing that they have a gun is an inherent threat."
This legislation binds judges hands, offerred Saccocio. The word used to be "may" as in "a judge 'may' remove a domestic abuser's guns." That word has become "shall." In Saccoccio's opinion, judges should have discretion. Of course, other states, even states as gun friendly as Louisiana, use the word "shall" in similar legislation, said Orsinger.
Ultimately Saccoccio got to the end of his testimony by telling the assembled Representatives the same story he told the Senate weeks earlier. Saccoccio told of a "seminal case" in which a man with a protective order against him ran into his wife three times by coincidence, and was charged with violating the order. In Saccoccio's telling of the case, the man was coincidentally holding the door for his wife when they ran into each other at the post office, and another time the man innocuously waved to his wife as he passed her while driving.
According to Orsinger, such stories tend to minimize what victims of domestic violence go through. "For those of us who have had healthy relationships in our lives," she said, "it seems really reasonable that even in the most animosity filled divorce… you can bring a coffee to court just to be nice. But to the person who always got a Starbucks Latte the morning after they were brutally beaten, a Starbucks Latte means something different. It can be an inherently violent act to violate a restraining order… What it says to that victim is that no court can hold me back, no police can hold me back… I can get to you whenever."
Saccoccio's performance seemed doubly unnecessary when we remember that the bill under discussion simply brings state and federal law into alignment. It doesn't do anything but close a loophole. "Already, under federal law," said Julia Wyman, "if you commit a domestic violence misdemeanor, you are barred from owning a firearm for life."
"By the time someone gets a conviction" for domestic violence, added Rachel Orsinger, "they've either… committed a felony assault that's now been pled down to a simple assault… or this is their seventh or eighth time being arrested."
"But don't get me wrong," said Frank Saccoccio, "we are not supporting or in any way… advocating for domestic violence. It should not be condoned or supported in any way."
Frank Saccoccio and the 2nd Amendment Coalition say they agree with Wyman on the need, "to take firearms out of the hands of abusive people," but until he supports this common sense legislation, his bewildering word clouds are "full of sound and fury, signifying nothing."
How to lobby for domestic abusers' gun rights

,