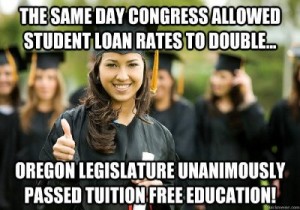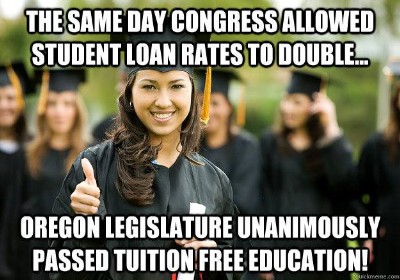 Almost unnoticed by RI media (save for education reporter Linda Borg in The Journal) is H7201, which would create a "Pay It Forward, Pay It Back" pilot program for funding tuition to colleges. The idea has found traction in the lefty blogosphere (notably by Matt Bruenig of Demos' PolicyShop) and has been piloted by the State of Oregon. It's relatively simple. The state sets up an initial pool of money to fund tuition for students at a select higher education institution in the state. That pool covers the costs of their tuition for their time in college. When the students graduate, they then pay back a proportion of their income over a set number of years.
This whole style of paying for college called "income-based repayment (IBR)". Pay It Forward, Pay It Back gets around the typical student debt relief problem that ultimately subsidizes the educations of the well-off. It's no secret that wealthier people are far more likely to gain a college education, and they disproportionately make up college graduates. Any broad-based tax that reduced student debt burdens would ultimately have poor people paying for the wealthy to receive higher education, furthering the achievement gaps between the wealthy and the poor.
Pay It Forward, Pay It Back neatly defeats this problem. If you make a lot of money after you graduate, your repayments will basically subsidize the costs of students who didn't make much. Those repayments happen for a set number of years, long enough that even if you start off paying just a few hundred in your first year out, within in a few years you could be paying thousands.
Theoretically, if this program succeeds, the State of Rhode Island could guarantee every single child who is born in the state a college degree, assuming they get accepted.
Are there problems with this bill? Yes, for one thing, it requires that students graduate within four years for a bachelor's or two years for an associate's; while saying nothing about those who drop-out. This may be because it is simply a pilot, but drop-outs and those who take five years (perhaps because of a double major) could simply make payments for less or more time, respectively.
It's also couched in the "workforce development" language of the skills gap, which is big on Smith Hill right now, even though the gap is fictitious. Another problem is that instead of being for all degrees, it will only be for select courses of study in an attempt to provide workers to state employers; so future English majors don't expect to reap the benefits any time soon. Presumably education degrees won't be targeted, despite our rhetoric to have better-trained teachers.
But how you sell the bill is less importance than its existence. Hopefully a Sub A will expand this bill to be far more ambitious with a focus on the students rather than their potential employers who may not even hire these people when they graduate.
The lead sponsor is Speaker Gordon Fox himself, and the press release also credits Rep. Joseph McNamara as House Health, Education and Welfare Committee Chairman. For those saying there's no ambition in Rhode Island or a dearth of leadership, this is a bill which should give you hope.
How to make college affordable: Pay It Forward, Pay It Back coming to RI?

,