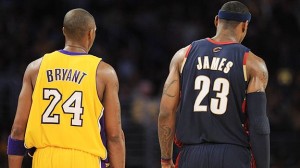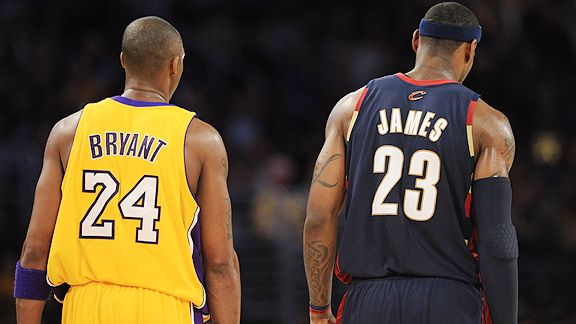 With a career record of 54-1, the U.S. Olympic basketball team, a collection of NBA All-Stars, MVPs, scoring champions, and defensive players of the year are poised to dominate yet again.  And yet again I'm bewildered by the media makers who try to capture our attention of this entertaining coronation ceremony where our team often leads by 20 to 30 points… and must struggle with how sporting it is where there is no mercy rule.
They focus on the one loss, a result of slackidaisical street-balling (and perhaps some partying?) in Athens eight years ago… and Spain.  But the Gasol brothers are not "Spaniards" in the lineage of Maximus Decimus Meridius.  They have two NBA starters (and Pao is fading) and two NBA journeymen.  So to give this competition some perspective, I decided to look at USA v. The Entire World (excluding those who are not in London, such as Dwight, D-Wade, and Griffin).
USA's Top 5 Bench Team  v.  The World's Best 5:
The USA second unit                    Team World
PG  Michael Westbrook               Tony Parker (FRA)
SG  James Harden                         Manu Ginobili (ARG)
SF  Andre Iguodala                        Luol Deng (GBR)
PF  Carmelo Anthony                   Pau Gasol (ESP)
C  Kevin Love                                  Marc Gasol (ESP)
This is actually a decent match-up, as all ten players are effective scorers in the NBA, with only Iguodala known as a defensive stopper.  Most would consider the Thunder backcourt to have surpassed the hardware-winning Spurs backcourt at this point.  Love and Marc Gasol are an even match, while the merits of both Carmelo and Pau are both in dispute.  So lets look at depth, as every championship team requires 8 or 9 solid players in the rotation.
USA's Starting 5  v.   The World's 2nd Best 5:
PG Chris Paul                          Sarunas Jasikevicius (LIT)
SG Kobe Bryant                       Leandro Barbosa (BRA)
SF  Kevin Durant                    Nicolas Batum (FRA)
PF  Lebron James                   Luis Scola (ARG)
C  Tyson Chandler                   Nene (BRA)
Okay, so I left off Deron Williams (PG) and Anthony Davis (PF) on our side, and you want to replace someone with PF's Varejo (BRA), Kirilenko (RUS), Diaw (FRA), Al-Farouq (NIG), Jianlian (CHI), or perhaps C's Splitter (BRA), Turiaf (FRA), or Bogut (AUS).  But ultimately, the World has a clear lack of guards, and is bringing out a group of journeymen.  If we fielded a team of Horace Grant, Robert Horry, Kurt Rambis, M.L. Carr, and Tony Fisher… we could talk about all their rings, headbands, and goggles; we would root for them, but they couldn't beat a pack of Hall of Famers.
The Sporting Solution  
So what to do?  Olympic soccer limits teams to three over-25 players, which wouldn't change the composition of our Bomb Squad much.  In a sport with 19 year old rookies like Anthony Davis, people like Blake Griffin, Kobe, and Durant get a lot done by age 25.  And if your Big Three are the likes of Kobe, Lebron, and CP3… are you really worried?  (i.e. Miami Heat title tactic).
My Solution: Every four years, the NCAA Champion goes to the Olympics.  This allows the nation to root for a competition once again.  The experience of Gasol Brothers and a few NBA journeymen (the would-be Conquistadors) would match up against teams that have played together for several years in the same system.  It would make March Madness huge every fourth year, and perhaps inspire a few more prospects to stay in college for the chance at a medal.
This year the team would be Kentucky, led by NBA first round picks Anthony Davis, Michael Kidd-Gilchrist, Terrence Jones, and Marquis Teague; and second round picks Darius Miller, and Doron Lamb.  Yes, the entire team was drafted into the NBA.
In 1992, we sent the Dream Team, but we could have sent the Duke squad of Christian Laettner (he did go), Bobby Hurley, Grant Hill, and their team coming off back-to-back NCAA titles.
In 1996, the Kansas team of Paul Pierce, Raef Lafrentz, Scott Pollard, and Jacques Vaughan could have done considerable damage with their post-play and Paul ("I used to be a slasher with ups") Pierce.  Atlanta would have welcomed this group leading us to gold.  Could they have beaten Vlade Divac, Sasha Danilovic, and some other vitches by nearly 30 like our NBA All Stars did?  Maybe by 10 or 20.
The 2000 Michigan State squad of "Flintstones" (a group predominantly from the downtrodden Flint, MI gave it a Bruce Springsteen underdog feel) was one of my least favorites, but I've always disliked the Big Ten in general.  Mateen Cleaves, A.J. Granger, Morris Peterson, and Jason Richardson could likely have donned the Red, White, and Blue and done similar work at the Sidney Olympics.  Could they have beaten the French silver medalists, led by guys who sound like a bunch of poets and philosophers?  Our All Stars won by ten over guys who never sniffed the NBA.  This should have been a sign of how hard the Americans played, or how sorry they felt for the opposition.
The 2004 UCONN team was truly dominant behind Emeka Okafor, Ben Gordon, Charlie Villanueva, and Josh Boone.  If we sent that squad to Athens to face the world, Calhoun would have prepared them well.  Instead, our All Stars lost to Puerto Rico and Lithuania in the prelims, giving up over 90 points to each, and then lost by eight to the Argentinians: Ginobili, Pepe (remember me at Temple!) Sanchez, Scola, Nocioni, and Delfino.  Pepe was the first Argentinian to play in the NBA, and none of these other journeymen, like Pepe, were in the prime of their careers.  Surprise: Lebron, 'melo, Iverson, Marbury, D-Wade, Bosh, and Duncan couldn't figure out how to play together.  They certainly didn't lose for lack of speed, size, or talent.
In 2008 the Kansas squad would be tapped again to go into battle.  Beijing would see Mario Chalmers, Darrell Arthur, Brandon Rush, Darnell Jackson, and Russell Robinson continue the team ball and defensive domination they showed throughout the tournament.  This was the vengeance year, where an embarrassed Lebron, 'melo. and D-Wade combined with Kobe, Dwight, CP3, Deron, and others to win by an average of thirty points, scoring 118 in the final.  They beat Spain by 11, and never bothered to play defense, as it simply wasn't needed.  That year, Pau brought the Raptor's Jose Calderon, his brother Marc (not yet in the NBA), Ricky Rubio (only 17 years old), and Rudy Fernandez (drafted the next year).  Kansas could compete with that.
I'm no Kentucky fan by any stretch of the imagination.  But I would watch every game if they wore Team USA and expect them to be on the medal stand, regardless.  I don't get anything extra in my life when USA wins a gold, silver, or bronze.  The athletes get their moment, and sometimes I get to witness a record, a miracle, or a tear-jerker.  Watching Kobe and Lebron find a place on their mantles for a gold medal doesn't serve anything like that.  But hey, maybe its just me, and the rest of you enjoy watching a good ol' fashion beat down.