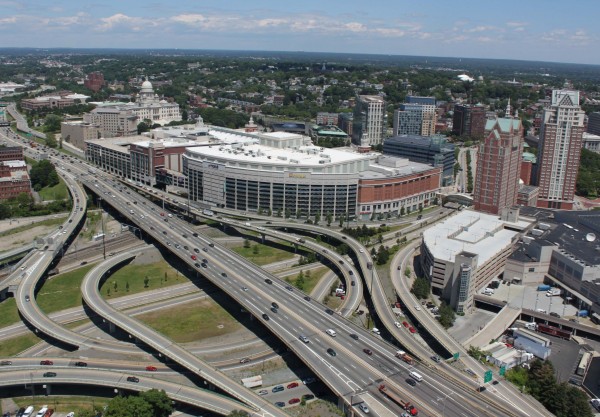 The $5.6 billion is the total expected spending over 10 years in a draft Transportation Improvement Plan (TIP) for highways and transit going to public hearings on Thursday, May 26 (2pm and 6:30pm in the DOA Building on Smith St.) The draft documents have about 500 pages so it is not easy to review, but is online at RI Statewide Planning.
Spending is much higher than usual because of revenue projected from the new truck tolls, the borrowing of $300 million in so-called "GARVEE" bonds (paid back from future Federal highway appropriations so no voter approval is deemed necessary) and some increased support from the new Federal transportation law.
Most concerning for me, the draft calls for allocating $195 million to the 6-10 project this year, 2016, even though its design – expressway or boulevard – is still being discussed and the city is investigating alternative visions for the corridor. The draft calls for $3 million of public money for a new I-295 interchange in Johnston to subsidize the Citizens Bank move to a new "campus" even though that is contrary to all our land use goals. $38 million is proposed to implement the truck tolls.  An additional $50 million or so is proposed to widen I-95 northbound through Providence when the northbound viaduct is replaced, adding to the huge gashes highways make in central Providence.  But some highway projects are deferred, such as a full Route 4/I-95 west interchange, new Route 403 ramps, and an overpass to avoid the one traffic light on Route 146.  Much money will go to repairing deficient bridges all over the state, with the intent to start as soon as possible before it gets even more expensive to do so, and a lot of state roads will be resurfaced, they are all listed.
On the transit side, it continues some slow progress toward re-establishing a commuter rail stop in Pawtucket, a little new funding for some RIPTA bus service to supplement our commuter rail, seed money to see if someone will operate seasonal ferry service, but no sign of any other rail service expansion. $17 million is allocated for an "enhanced" 6 stop bus corridor where the Providence streetcar would have gone, though it doesn't even promise any signal priority on that route. The $35 million bus hub bonds that voters approved in 2014 is listed as 2016 revenue for a Providence Station Transit Center. The bond actually could fund bus hubs anywhere in RI, and now may be needed in Pawtucket which is apparently losing its existing Visitors Center bus hub, though there is now no project  being considered.  Otherwise it is largely business as usual for RIPTA with continued bus and paratransit van replacements.
Our bike path network will grow slowly, especially slowly in the first five years, largely limited to extending the Blackstone Bikeway in Woonsocket plus some progress on finishing the South County path. A "City Walk" proposal in Providence is recommended for funding.
My overall take is that beyond really going after improving the bridges there is no game-changer here, not even in light of climate change considerations. For example, there is no sign of any interest in electrifying our commuter rail in the 10 year period (contrast with huge subsidies available for electrifying the auto fleet) nor much sign of attempting to reduce vehicle-miles traveled, or promote more energy efficient urban core redevelopment.
I do hope some in the Rifuture community will investigate this issue which involves our transportation future and so much of our money. Consider testifying at the hearings.  I think Statewide Planning, RIDOT and RIPTA would be willing to help provide more information, but you can also contact me (bschiller@localnet.com) if you like, I do have a print copy of the documents.