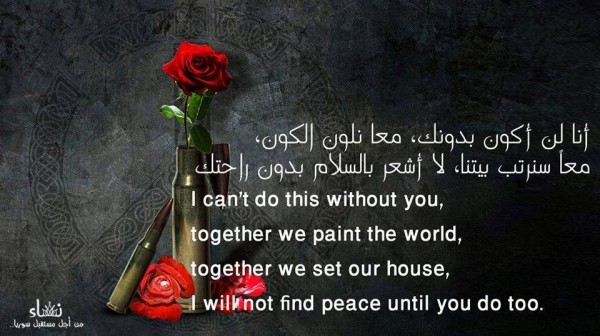 GAZIANTEP, TURKEY – For the past three years I have been working with a Syrian NGO whose aim is to build democracy and a stronger civil society in Syria. Until recently I worked from home in Rhode Island, but now I am based in our main office in southeastern Turkey.
Along with dozens of Syrian colleagues, I am immersed in the ongoing tragedies that take place every moment and in every part of Syria, our minds still reel from the tragedies that occurred recently in Beirut, Iraq, Ankara, Egypt, Mali and Paris. Just like people who care about justice and peace throughout the world, we are asking "Why?" and "How?" with renewed urgency.
Why has this violence taken place? How can we stop it from continuing?
We don't have all the answers, but we believe that it is more important than ever to raise the voices of the peace builders and democratic change seekers – the ordinary people who are on the ground counteracting extremism and authoritarianism by healing their communities and finding nonviolent solutions. And those brave souls are always there, even when a situation may seem impenetrably dark from the outside.
More from/about Josie Shagwert in Gaziantep, Turkey:
Through our Women for the Future of Syria program we have helped nearly 500 women found peace circles in their communities, which are located throughout Syria as well as in some refugee areas. The peace circles are linked together in the I Am She network for women's leadership. With our support, the peace circles organize for peace and justice locally. Peace circle members are negotiating ceasefires, opening schools in besieged areas, advocating for political prisoners, bringing together ethnic and religious communities to reduce tension, and so much more.
These Syrian women community leaders are risking their lives every day to non-violently push for peace and justice – in the heart of some of the places where extremism has taken root. We think their stories are powerful and can change things at an international level. Their stories need to be told to the whole world.
While we mourn for the victims of terror attacks, in Syria and throughout the world, and try to follow the high level discussions that world policy-makers are having about ISIS, I urge you to support one of the solutions that has been proven to work time and time again in the history of social change; solidarity with the community leaders on the ground who are implementing solutions that work.
If you'd like to donate to our work, click here.