State Rep. Jon Brien blames his recent defeat on "outside influences" – my union among them – who were "spending a lot of money" against him. Here's why he is partly right, partly wrong, and partly to blame.
---
Last week, I filed several independent expenditure reports with the RI Board of Elections on behalf of my organization, SEIU District 1199NE — the union representing nearly 4,000 private-sector health care workers throughout Rhode Island. The reports detailed our spending in support of four candidates in this past Tuesday's primary elections.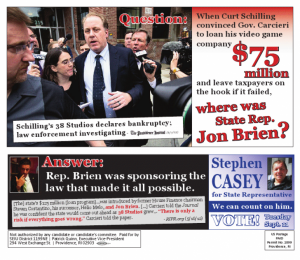 Among them was an expenditure of $834.57 for a mailing sent to frequent primary voters in Woonsocket's House District 50, critical of State Rep. Jon Brien's sponsorship of legislation paving the way for the disastrous 38 Studios deal. This expense was so small that it wasn't even required to be reported under the state's new disclosure law. According to some reports, however, it may have had a big impact on the race — where Brien lost by 50 votes to first-time candidate and city firefighter Stephen Casey.
In my opinion, there were many reasons to vote against Rep. Brien. I don't know the man personally, but most of his views are the exact opposite of mine (except perhaps for our mutual admiration for the roast beef sandwiches at the Beef Barn). He often seemed more focused on building his profile with business interests, ALEC and the right-leaning Washington think-tank crowd than with actually helping the people of Woonsocket.
For example, Brien did little to help during my union's recent fight to restore $24 million in funding that had been cut from programs serving the developmentally disabled — despite the importance of agencies like Seven Hills of Rhode Island to many families in Northern RI. Meanwhile, he adamantly supported costly tax breaks that only benefit the wealthy – embracing the failed & disproven "trickle-down" theory of economic growth, depriving our state of revenue that could have more than restored the cuts to these vital services, and condemning direct care support staff to a life of poverty.
But the 38 Studios debacle (and the mindset that brought it into being) stood out as an event that deeply angered everyone across the state, regardless of their political leanings. Rep. Brien was one of three sponsors whose names appeared on the law that enabled the EDC to loan $75 million to Curt Schilling's risky video game company, but left Rhode Islanders on the hook when it failed.1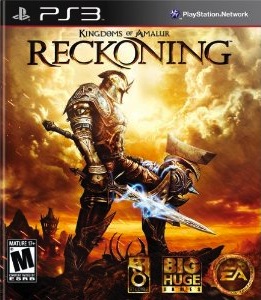 Brien claimed that the wool had been pulled over his eyes, that he was sold a bill of goods, and that he didn't know that all of the funds would be poured into one company – but it appears these excuses simply weren't good enough for most voters, who decided it was time for a little Reckoning of their own.
There were other factors, of course – and you won't find me claiming that one postcard could magically beat a 3-term State Representative from a political family with deep roots in the city. From what I've read, it appears that Stephen Casey related well to many voters. On election night, he told the Valley Breeze that he had knocked on over 900 doors. That's the kind of hard work that wins elections – but it didn't stop Rep. Brien from crying foul:
"I worked really hard and I think I represented the district well," said Brien. "I think that the outside influences from out-of-town, spending a lot of money on these races, worked really hard to target certain people. That's the nature of the beast. I was targeted by many of the labor unions from around the state."
What Brien fails to mention (because his venom sac runneth over when it comes to workers' organizations) is that my union was vastly outspent by a corporate-backed alliance that dropped just over $11,225 in a failed attempt to protect him. That's more money than even Rep. Brien's own campaign could raise and spend.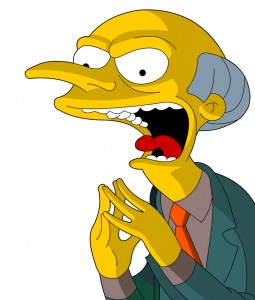 As Ted Nesi noted, this group — the 50CAN Action Fund2 — received $160,500 from Michael Bloomberg, the billionaire Mayor of New York City, and $50,000 from Jonathan Sackler, an heir & executive at Purdue Pharma (the maker of OxyContin) in addition to $2,500 from one Rhode Islander, Angus Davis. So we have a situation where three wealthy individuals (but let's be honest, it was mostly the non-Rhode Islanders3) spent more money on the outcome of one Woonsocket general assembly primary election than the nurses, CNAs, and other health care workers who belong to our union.
Unlike these donors, our members live and work in the Ocean State, and have a real stake in Rhode Island's future. In House District 50, this group outspent us by nearly a 14-to-1 margin4 — so it seems to me that Rep. Brien's real complaint should be that his rich independent benefactors weren't particularly smart at directing their investments — an ultimate irony, of course, for these illustrious captains of finance.
But if it's any solace to those who truly object to the interventions that my organization and others made in the recent election, let me say this: so do I.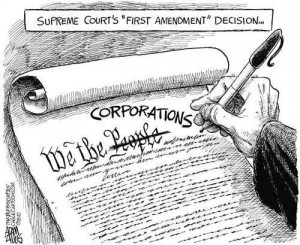 Unfortunately for us all, the Supreme Court's "Citizens United" decision has opened the floodgates for unlimited spending by corporations, wealthy individuals, and unions – though most observers acknowledge that workers' organizations don't have pockets nearly as deep as the CEOs. Independent expenditures didn't begin with "Citizens' United," but the decision has paved the way for untold sums of money to be dumped into our local, state, and federal elections.
If we abandon one of our most important founding principles as a country — a government of, by, and for the people — the very future of our democracy is at stake. For our part, SEIU believes that the Supreme Court decision should be immediately overturned, and that laws must be passed to ensure that the voices of ordinary Americans are not drowned out by the wealthy and corporations in our political process.
In the meantime, however, our members will not unilaterally disarm. We'll be in the trenches, working to stop politicians who believe that corporations are people, and who are eager to do the bidding of the wealthiest 1% — those who are growing ever-richer while the standard of living for the vast majority of Americans continues to decline, and who seek to further dominate the political process, distort our democratic institutions, and turn our government into an auction house.
Our union believes that we need to build a movement of all Americans across political and party lines to make sure that the voices of ordinary people will be heard in our democracy, today and always. With that, I'll offer two parting thoughts for Rep. Brien, if he is genuinely concerned about the influence of money in politics, and not just at the times when it doesn't work out for him personally: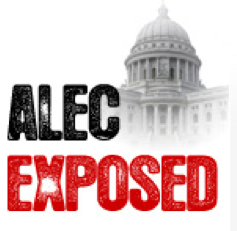 First, if ALEC still keeps you on their board after voters have shown you the door, maybe you can parlay your current misfortune into convincing the Koch Brothers, ExxonMobil, and the other CEOs and corporations to change ALEC's position on unlimited corporate spending on elections.5 As John Nichols described it last year in the Nation:
[ALEC] has no problem with policies that increase the likelihood that the candidate with the most money and corporate support will prevail. Its 2009 Resolution Supporting Citizen Involvement in Elections bluntly "opposes all efforst to limit [citizen] involvement by limiting campaign contributions." A resolution approved [in 2010] expresses support for the Supreme Court's Citizens United ruling.
Second, if that doesn't work out (my prediction: it won't), I'm willing to bet that Common Cause would let you join as a member and stand with them to work for fair elections and stronger rules governing the influence of money in politics.
Heck, if you are able to kiss and make up with their director, I'll even pay the $40 for your membership! The only issue would be that Rhode Island's ethics code prohibits gifts of more than $25 to a member of the general assembly.
So can you remind me: when is your last official day in office?
---
Footnotes:

(1) Now-retired State Rep. Bob Watson was the lone 'NO' vote on the deal – which you can either credit to his powers of legislative discerment, or to the fact that he was a constant contrarian on just about everything at the General Assembly, so eventually he was bound to really get one right!

(2) The group, which purports to stand for educational opportunities for poor children in urban schools, boggled many minds when it gave Brien an "A+" grade, given his intense opposition to our state's DREAMers who simply wanted to be able to afford to go to college after they graduate high school, and whose only "offense" was being undocumented because they were brought here at a young age.

(3) Given their out-of-state base, it's no wonder 50CAN got geographically confused with a couple of their mailers. If they had heard about Casey's beer and dynamite fundraiser, we may have even seen an attack mailer accusing him of mixing alcohol with explosives.

(4) There were other unions that reported conducting Independent Expenditures in HD-50 – their reports showed $18,000 and $5,000 spread over 25 races (an averge of $920 per race). Even if twice the average had been spent going after Rep. Brien (I highly doubt it – voting history shows that this is a fairly low-turnout district), all of the union money combined against Rep. Brien still would have been four times less than the corporate money supporting him.

(5) You can read ALEC's resolutions from both before and after the Citizens United decision, though you'll have to filter through the cluttered layout of the critique (apologies, but those were the only versions I could find on-line – strangely enough, ALEC appears to have removed the originals from its own website).
I Learned It By Watching You, Jon!

,