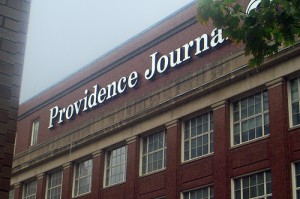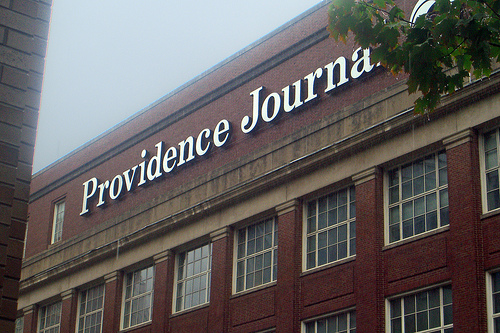 When I started this column, Bob suggested that I stick to "Progressive political issues." This column is one exception. It's going to be a collection of political shenanigans, conversations with constituents,  notes and anecdotes from the trail so far.
The Article that Was/Wasn't…
I've been noticing a lot of divergence between the Providence Journal's paper paper and it's online editions… Huge hunks of articles, and even entire pieces are missing online.
Maybe you saw the big piece that Ed Fitzpatrick wrote last week? Chances are, you didn't, or if you did, you were scratching your head. I spent an hour or so talking with Ed in my favorite part of the district, down by the Seekonk River. We watched herons and cranes and gulls, and discussed the 38 Studios debacle as well as the important issues that I'm focusing on. Ed followed up with some phone questions.
Then, last Thursday, I woke up at 5:30, excited to see the article about the campaign in the Providence Journal. I'd had long conversations with the reporter, and was hopeful about the piece.
The headline? Bruce Bayuk hopes to buck history, beat Fox. In blog terms, WTF?
What might have been a breakthrough article about the campaign became a head scratcher. A fair and balanced article with a headline that might have been written, Mark Binder hopes to buck history, beat Fox, was instantly irrelevant and inconsequential.
The cynic in me might think that the headline was rewritten on purpose. I wrote Ed and he called the headline the "ridiculous" mistake of a copy editor. A correction was posted in the paper the next day, but the article remains uncorrected in the online archive, and invisible from the newspaper's website.
We sent an email today to the newspaper requesting they fix it online, but nothing has changed yet. I finally wrote a letter to the editor, which appeared online a few days ago, and finally appeared in the paper: Bad Headline Indeed, (Providence Journal, August 16.) Only one mistake… it says I'm running in the primary as a Democrat… I'm not. I'm running in the General Election as an independent. Sigh.
Q: If the online archive is incorrect, and a correction is issued, should the online edition be changed in retrospect?
Her Health Insurance is Killing Her
She was shaking her head as the kid a few doors up chased a ball into the street. Aside from the general economic climate, her biggest concern was health insurance. She worked, but her boss didn't provide health insurance. Instead, she had to pay $640 a month. As a candidate, and not a reporter, I didn't ask what her job was, or what she was getting paid. If she was making $10 an hour, though, that would be roughly 40% of her income before taxes.
The problem, she said, was that the only insurance available in Rhode Island is Blue Cross. "Even if you go to the United Way, they tell you that you have to see Blue Cross."
Taxes and Roads
"What issues are important to you?" I asked the fellow answering the door.
"Taxes and roads," he said. "The excise tax on cars is too high and the roads stink. Lower the taxes and fix the roads."
How do you fix roads, I wanted to say, without taxing the cars that use them?
But he didn't really want to talk just then. He was in the middle of watching a ball game.
Not Now!
It was about 7:30 on a Thursday night. I knocked on the door, and was about to walk off, when the door opened.
"What is it?" the woman said. "What?"
"I'm Mark Binder, I'm running for…"
"Not now! Not during dinner," she said, turning away and shutting the door.
Note to self about campaigning in the evening: they're either at work, just back from work, relaxing after work, about to sit down to dinner, eating dinner, just finished dinner, watching a ball game, or getting ready for bed. Aim for the windows in between those.
 Student Loan Rip Offs
One man owns a garage, works 60 hours a week, and his wife works as well. They've put two children through college and are enrolling their third. They're mostly paying for their child's education, but wanted to give their son some responsibility, so they applied for a loan. (I believe he said it was Fannie Mae, but I could be wrong.)
They were told that a $5,000 student loan would be payable at an interest rate of more than 9%.
Previous student loans for other children were in the 5% range.
Given that the current prime lending rate is so low, and that student loans are guaranteed by the Federal Government, and that they can't be waived away in bankruptcy, they asked why it was so high. Was there something wrong with their credit rating?
"No," the loan officer said. "Your credit rating is good, and the loan is for a small amount. That's why the rate is so high."
Time off for good behavior
"What are you going to do about criminals getting time off for good behavior?" the woman asked.
I hesitated. I'm learning how to be a politician. "Why do you ask?"
"My brother was killed by a man who had gotten fifteen years in prison for a violent crime, but got out in three. If there wasn't any time off for good behavior, my brother would still be alive."
What do you say to this? I was speechless.
On the one hand, I believe in people being able to redeem themselves. On the other, this woman's brother was murdered.
"I don't know," I said. "If I think of something, I'll let you know."
I'm not Bruce Bayuk, and Other Tidbits from the Trail

,